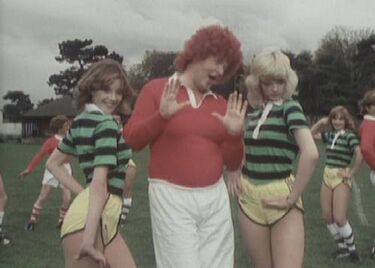 Production
Episode: 37
Date: February 6, 1980
Time: 50:54
Musical Director: Ronnie Aldrich
Vocals: The Ladybirds
Choreography: Linda Finch
Producer: Dennis Kirkland
Director: Dennis Kirkland
Writer: Benny Hill
Episode
Quickie: Other Men

The Scarlet Pimple

Hollywood Grates: Chubby Dodds
Hill's Angels: Grand Gala
Quickie: Milk Round
Women's Lib Television
Sale of the Century
Women's Soccer
Tag: Charlene's Angels
Highlights
The Scarlet Pimple
Hollywood Grates
Women's Lib Television
Charlene's Angels
Cast
Quotes
Trivia
First episode with the Hill's Angels
Selected sketches from this episode appear in the "One Night Video Stand" and "Home Video Drive In" tapes VHS from HBO Home Video.
Bob Todd returns after a nine episode absence.
The car Sue Upton almost wins in the

Sale of the Century

looks like the same one that chases Benny in the Charlene's Angels sketch.
"Charlene's Angels" is a spoof of the American 70s crime drama "Charlie's Angels." Benny also spoofed it as "Archie's Angels" in Benny Hill: Down Under.
During the filming of Charlene's Angels, Sue Upton plays a character whose halter top fires bullets. Apparently, someone used too much gun powder in the gag because she was seriously burned when the powder was activated.
Sequence
---