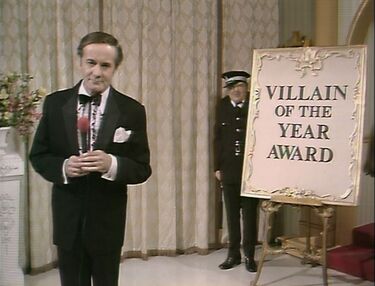 Production
Edit
Episode: 30
Date: February 23, 1977
Time: 49:38
Musical Director:
Vocals: The Ladybirds
Choreography:
Producer: Mark Stuart
Director: Mark Stuart
Writer: Benny Hill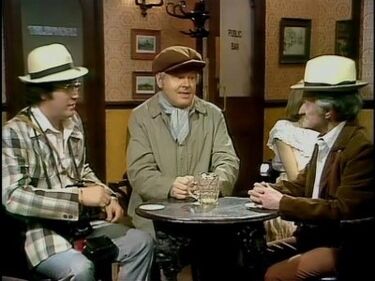 Highlights
Edit
Villain of The Year
The Reluctant Bridegroom
Victorian Scandals
Scout Jamboree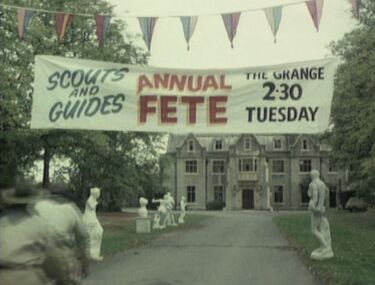 ---
Fred Scuttle (imitating a criminal) - "Me stab a copper? I was cleaning my nails with a bread knife and he ran into it... twelve times... backwards!!"
---
Big Red - "Why should I help them with their investigations? I never helped him with his robberies."
---
Big Red - "He said, "I'm booking you for an immoral act!" I said, "Me? When?" He said, "How about next Friday?""
---
Big Benny - "And now a subject near and dear to our hearts... Police brutality. In particular, that of the copper breaking free of Bomber Smith's fingers... With his ribs."
---
Zipper Martin (as Al Jolson) - "Don't tell the landlord we have fleas. We're not allowed pets."
---
Ted Tingley (thinking) - "Look at that face. It looks as if it wore out two bodies...."
---
Elsie Bailey - "Oh, I'm wearing black on account of my dearly departed husband."
Ted Tingley - "Oh, and may I ask when he departed?"
Elsie Bailey - "Ten minutes ago, but he won't be back by six."
---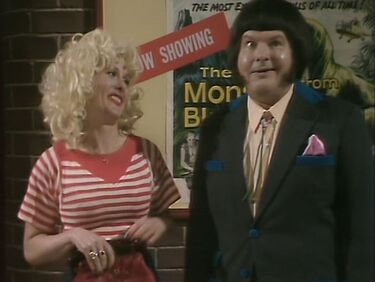 Elsie Bailey - "I'm warning you. My husband could be coming home soon."
Ted Tingley - "Well, I'm not doing anything."
Elsie Bailey - "I know, but if you are, you better get started!"
---
Harry - "It must be a face, it's got ears on it!"
---
---
---
---
---
---
Lorraine Doyle's first appearance on the series, but she appears as a member of Love Machine
Terry Dane seems a bit slow with his overcoat in "Doing The Flash." Although Benny, Henry, Eddie and Terry are wearing briefs underneath, he's still showing some pubic hair.
The Scout Jamboree tag seems to have been filmed at the same location as Bionic Boy.
Selected sketches from this episode appear in "One Night Video Stand" from HBO Home Video. 
---
Community content is available under
CC-BY-SA
unless otherwise noted.