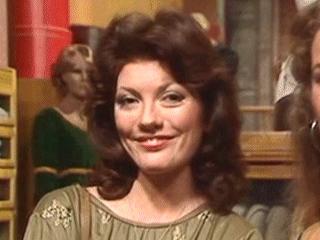 Trudi Van Doorn was a British actress best known for her 70s film career in movies such as "Quest For love," "Not Now, Darling," "Nutcracker" and "Queen Kong."
Not much is known about her early life. Born Geraldine Gardner on June 23, 1950 in Windsor, England, she made her acting debut on the TV series, "The Ugliest Girl in Town," later appearing in the movies "Every Home Should Have One" and "Quest for Love." She later starred on "The Benny Hill Show," appearing in the "Autumn Fashion Parade" sketch on Oct. 25, 1972 and the "Confrontation with Mervyn Cruddy" sketch on March 29, 1973. For the later episode, she was billed as Geraldine Gardner, having changed her professional name with the help of her agent Richard Stone.
After her name change, she made appearances on stage in the London productions of "A Chorus Line" and "Cats," later making several appearances on television on "The Avengers," "Are You Being Served?," "Danger UXB," "Hammer House of Mystery," "Suspense" and "Fresh Fields. A strong singer and dancer, she was considered for the role of Miss Purdy on "The Avengers," but actress Joanna Lumley won that role.
She married actor Christopher Swann in 1985 and became mother of two children in 1987. Suffering from postpartum depression, she took her life on January 9, 1987 in West Mersea, England by taking off her clothes and walking into the sea, dying from hypothermia.
Episode(s)
Edit
---
Community content is available under
CC-BY-SA
unless otherwise noted.