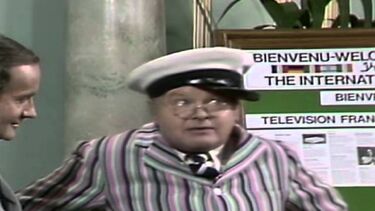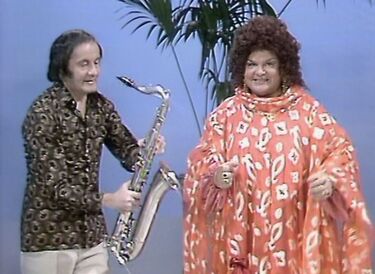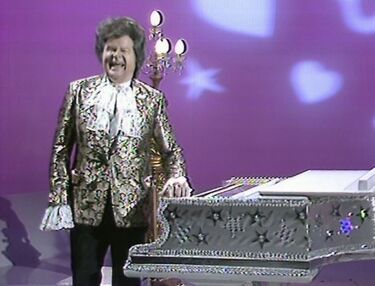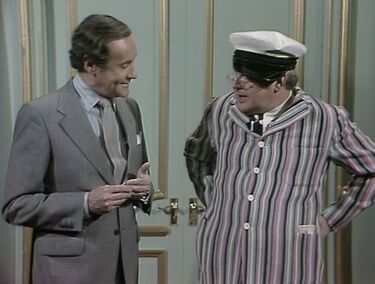 Production
Edit
Episode: 36
Date: April 25, 1979
Time: 49:35
Musical Director: Ronnie Aldrich
Vocals: The Ladybirds
Choreography: Dee Dee Wilde
Producer: Dennis Kirkland
Director: Dennis Kirkland
Writer: Benny Hill
Highlights
Edit
O'Jack
Yield To The Dawn
Cheapo Films Presents: Police Raid on Waterloo Station
Cross Country Race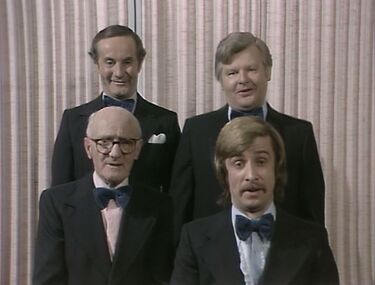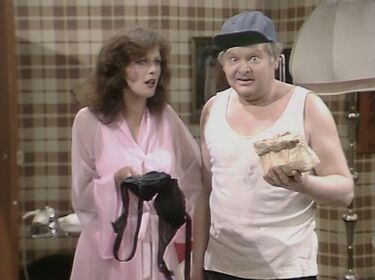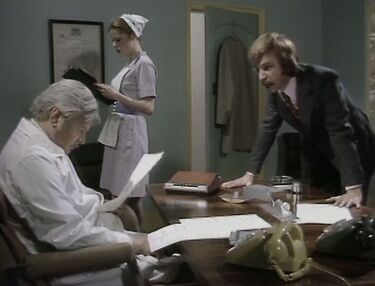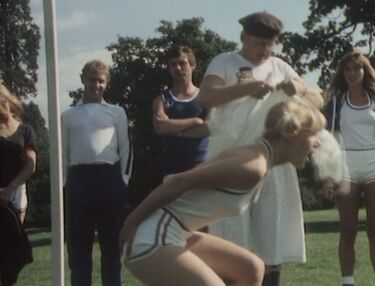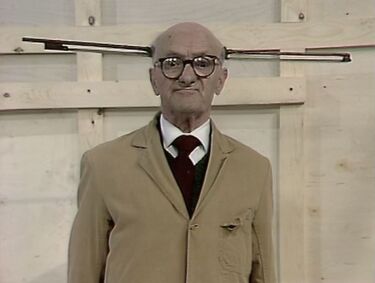 Benny opens the show as singer Cleo Laine with Henry McGee as Johnny Dankworth. Laine had been a musical guest on Benny's show on February 2, 1957 on the BBC. He also impersonates Liberace, bringing the character back on February 22, 1973.
"Something More Comfortable" and "Clothes Don't Fit" are reboots of a bits in Look Number Seven in The Underwater World Of Jacques Custard.
Quickies include commercial bloopers with Benny accidentally slapping Pauline Crawford in a washing machine commercial, Sue Upton in a commercial for facial cream, Helen Horton in a laundry detergent commercial that turns into a double entendre and Benny as the saleslady for "Head & Shoulders," the fast talking announcer for "Soar-Away-Sum" and a disgruntled "Cross-Over-Your-Heart Bra" pitch man. Later in the episode, Roger Finch plays a man with only a year to live.
The washing machine beauties are Louise English, Sue Upton (in a wig), Emma Bryant and Anika Pavel.
The Future Angels in "Soar-Away-Sum" are Nola Haynes and Francesca Whitburn ("Can you pick a beauty queen/"), Abigail Higgins and Pauline Crawford ("Why Are Women Scared of Mice?"), Sarah Woolett ("British Clothes"), Sue Upton ("Kids in Comprehensive Schools"), Francesca Whitburn and Nola Haynes ("Britain's Economic Slump"), Abigail Higgins and Nola Haynes ("Britain's Defense"), Louise English ("Capitol Punishment") and Sue Upton and Francesca Whitburn ("Underdeveloped Countries").
Louise English was 16-years-old at the time of this episode.
The washing machine and face cream bloopers are repeated from February 24, 1971. The "Cross Over Your Heart Bra" gag is from December 22, 1971, and the hairdresser blooper is also from February 24, 1971.
Benny Hill impersonates Telly Savalas as Kojak, Cleo Lane and Liberace.
O'Jack is a spoof of the American 70s crime drama, "Kojak."
Anika Pavel also appears briefly in the start of the Fred Scuttle sketch.
"Cheapo Films Presents" is reboot of "The Fastest Film Director in the World," which had depicted a J. Arthur Clinker movie entitled "Secret Agent of Love." which Benny did first for the BBC in 1954. Benny's foil in that earlier sketch was Patricia Hayes. This sketch also featured gags which had been scattered among the first bloopers segment of the December 27, 1972 show.
Pan's People includes several dancers who later became Hill's Angels, particularly Louise English, Abigail Higgins, Pauline Crawford, Francesca Whitburn, Sarah Woollett and Dee Dee Wilde, who did the choreography for the episode.
Selected sketches from this episode appear in the "Home Video Drive In" VHS from HBO Home Video.
---
Community content is available under
CC-BY-SA
unless otherwise noted.