The Mike Sammes Singers was an English vocal group from the 1960s and 1970s who performed in movie, television and radio performing commercial jingles before becoming recording artists. They were formed by English musician and vocal session arranger Mike Sammes, who performed backing vocals on pop music recorded in England from 1955 to the 1970s.
Born February 19, 1928 in Reigate, England, Sammes was the son of pioneer photographer and film-maker Rowland Sammes and began his interest in music by learning the cello and playing in the school orchestra at Reigate Grammar School. He worked briefly for the music publisher, Chappell & Co. in London before World War Two, returning to music after the war to formed a male vocal group called the Coronets with musician Bill Shepherd. Together, they did back-up work for the Big Ben Banjo Band and recorded for Columbia Records, releasing some covers of current hits.
After Shepherd withdrew, Sammes persisted and assembled the core group that would form the Mike Sammes Singers in 1957 to perform soundtrack and radio jingles. They also performed the title themes for three TV shows, "Supercar," "Stingray" and "The Secret Service." They also recorded seven albums between 1962 and 1988 and did vocals on numerous albums for Disneyland Records. They eventually departed from their usual commercial style when they provided backing vocals for the Beatles' songs, "I Am the Walrus" and "Good Night" as well as on their last album, "Let It Be." Sammes also provided the distinctive basso backing vocals on Olivia Newton-John's early country crossover hits, including "Banks of the Ohio," "Let Me Be There" and "If You Love Me (Let Me Know)."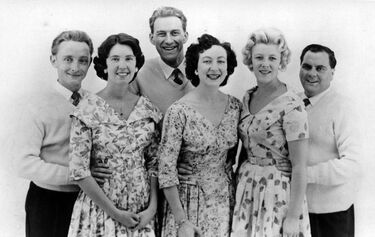 The Mike Sammes Singers remained very busy into the 1970s, doing recordings for television and appearing on "The Val Doonican Show" in 1971 and for the Woodstick sketch on the October 25, 1972 episode of "The Benny Hill Show." By the mid-1970s, however, the demand for backing vocals had faded considerably, due to the introduction of multi-tracking and synthesizers. Their last project was singing the "Summer Wine" song for the series, "The Last of the Summer Wine."
Several months after a fall in his home, Sammes died on May 19, 2001 at the age of 73. After his death, several of his recordings were recovered by Johnny Trunk of Trunk Records to turn into a compilation.
Episode(s)
---