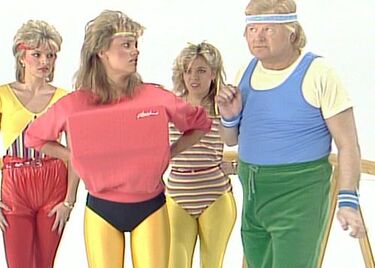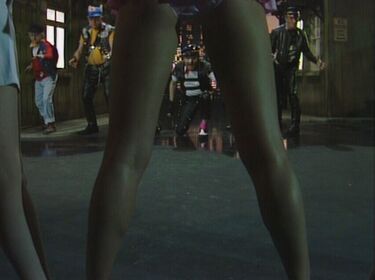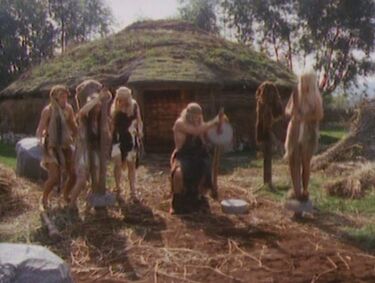 Production
Edit
Episode: 48
Date: April 25, 1984
Time: 50:15
Musical Director: Ronnie Aldrich
Vocals: The Ladybirds
Choreography: Libby Roberts
Producer: Dennis Kirkland
Director: Dennis Kirkland
Writer: Benny Hill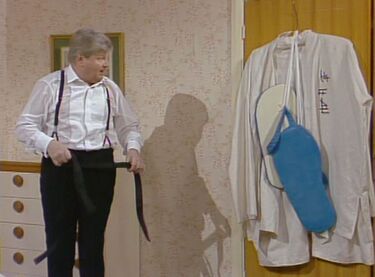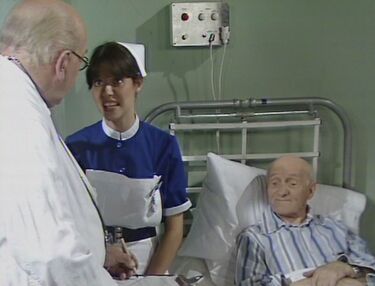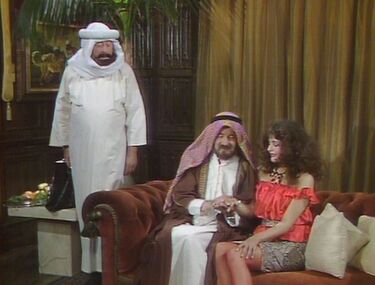 Highlights
Edit
The Vagabond
In "The Human Body," Benny tries to redesign the human figure.
In the "St. John Thomas Hospital" tag, Benny stops the chase to remove an annoying thread appearing in the footage.
Fizz Waters, the assistant stage director, appears on stage to let Benny know the show ran short in a rare ending of the series.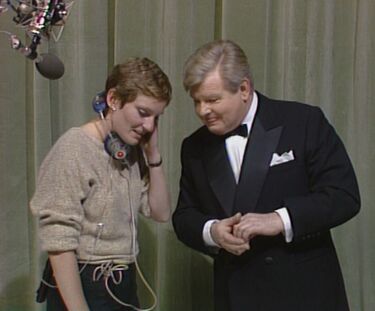 This episode appears on the "Golden Sniggers" VHS.
The "Boys Are Back In Town" sketch with the Hill's Angels features Benny Hill, Bob Todd, Henry McGee, Jon Jon Keefe, Len Keyes and Andrew Francis. Fiona Sloman (pink), Noreen Bothen (white), Erica Lynley (red), Lisa Jackman (light blue) and Tracy Smith as the referee with Lisa and Fiona batting Len Keyes back and forth. Sue Upton plays the old lady harassed at the start and joins the Angels for the victory. Possible extras did the physical humor for Len Keyes and sophisticated gymnastics.
According to William Brown of "Benny's Place," Jon Jon Keefe was the singer behind "The Boys Are Back In Town," first made famous by 1970s rock group, Thin Lizzy.
A second string of quickies in the episode feature Benny the Clown with a chicken act (possibly left over from January 7, 1981), Jackie Wright as an overworked employee needing some assistance (possibly left over from March 16, 1983), Sue Upton caught in bed by her husband Bob Todd and Benny and Jane Leeves watching a horror movie (also likely left over from March 16, 1983).
Quickies for this episode include Benny as a caveman attempting to invent the wheel, Jon Jon Keefe cuts down a tree for a protest sign, Benny in an affair with Erica Lynley, Louise English as a nurse for Jackie Wright, Benny and Lindsay Neil as newlyweds calling room service, Benny gets help from repairman Jon Jon Keefe and Jane Leeves gets a special present from a Sheikh played by Henry McGee.
Louise sings "Every Man, Every Woman Wants the Same Thing" on Benny's TV in a quickie.
In "Two Minutes Under," Benny says about Dennis Kirkland, "you're the producer... this week." This seems to be an allusion to the high turn-over of directors and producers in the early years of the series.
The St. John Thomas Hospital sketch reuses footage from the Grand Wheelchair Rally sketch from Friday Night Fever.
---
Community content is available under
CC-BY-SA
unless otherwise noted.