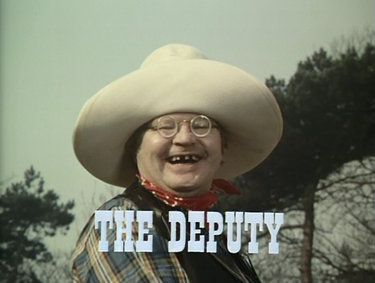 Bio
The Deputy is a Late 19th Century lawman from El Paso. His real name is Dan, but his last name is unrevealed. His look and attire suggests he is somehow related to Benny the Kid and The Halitosis Kid.
The Deputy is hired as a replacement to the town sheriff (Jackie Wright) who is wounded during skirmishes by Fiery Fred (Henry McGee), Chief Running Bare (Bill Weston) and Dirty Dave (Bob Todd), three local outlaws terrorizing the town. He befuddles them with a series of Bugs Bunny-like tricks, eluding getting roped and shit with arrows with fake legs and dummies, and sheer dumb luck. The town loves him; the local bartender (Jon Jon Keefe) gives him free drinks. He falls for the local school marm (Lee Gibson) as Dave tries strangling him with a rattlesnake and Bare tries dropping boulder on him. Fred tries blowing him up but only succeeds in blowing himself up. The outlaws end up taking the worst of their attacks, and Dave even falls in draw with the Deputy.
The outlaws soon join forces to kidnap the school marm and lead the Deputy into an ambush, but his strength wiles and fighting skills (along with the long stick the school marm is tied to) allow him to defeat them. He drags them back to town by a rope to put them in jail and gets kissed and hugged by the ladies in town. When the school marm catches up to him getting kissed and hugged, she chases him out of town.
Trivia
The Deputy was played by Benny Hill.
Dirty Dave is later reinvented as Thunderclap in the Halitosis Kid sketch.
The name Sheriff Burke appears on one of the Wanted posters.
BLOOPER: Dirty Dave's poster reads "sherrifs" instead of "sheriffs."
The side view of the saloon's second floor reveals there's not enough room for a second floor.
Jon Jon Keefe, Jim Tyson, Trudi Van Doorn, Cheryl Gilham, Laraine Humphrys, Chai-Lee and Andee Cromarty appear as townsfolk and bar patrons, and although Sue Bond was in this episode, she doesn't appear in this sketch.
The shot with Dirty Dave pirouetting in extreme slow motion before collapsing is a parody of a scene in director Sam Peckinpah's 1969 Western "The Wild Bunch" where violent action scenes often appeared in slow motion.
William Brown of "Benny's Place" calls this one of "the most brilliant sketches Benny had done up to that time."
Episode(s)
Gallery