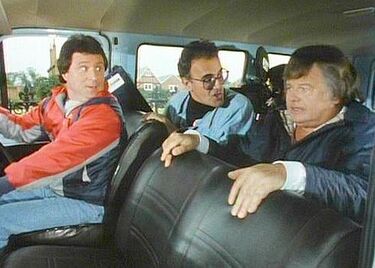 Production
Edit
Episode: 57
Date: February 8, 1989
Time: 50:37
Musical Director: Ronnie Aldrich
Vocals: The Ladybirds
Choreography: Libby Roberts
Producer: Dennis Kirkland
Director: Dennis Kirkland
Writer: Benny Hill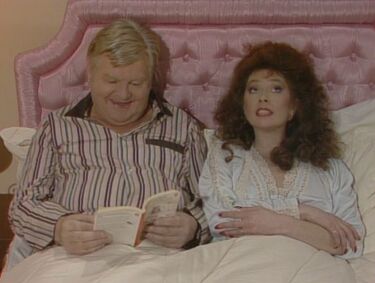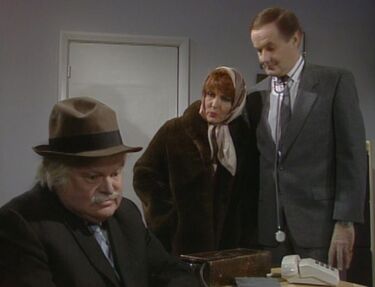 Highlights
Edit
The Birthday Party
Benny stars in a spoof of "The Cook Report."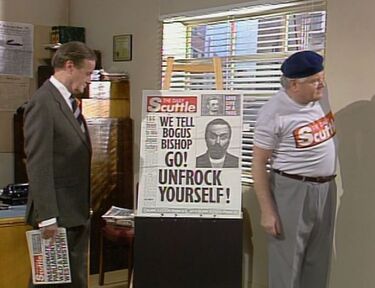 ---
---
---
Fred Scuttle - "I'd be very careful if I was you, Mr. McGee! If that's your real name.... Otherwise, we here to reveal some of the scandulous rumors flying around on your love life."
Henry McGee - "But there are no rumors!"
Fred Scuttle - "That can be arranged!"
---
---
---
This episode appears on the "Golden Giggles" VHS.
It takes two more Angels added to the original eight for the Hill's Angels to create the "Sports" intro. The extra two might have been Sue Upton and Carla De Wansey, but this has yet to be confirmed.
Benny's recurring Ginger Thompkins character reappears as a pool player.
The ending scenes in the closing sketch, "The Crook Report," were filmed at Thorpe Park in Surrey, England.
---
Community content is available under
CC-BY-SA
unless otherwise noted.