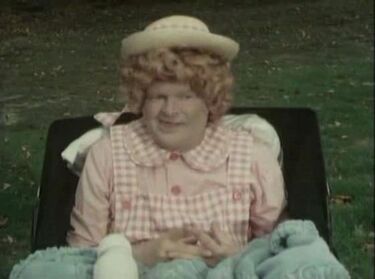 Production
Edit
Episode: 29
Date: January 26, 1977
Time:
Musical Director:
Vocals: The Ladybirds
Choreography:
Producer: Mark Stuart
Director: Mark Stuart
Writer: Benny Hill
Ballad: Bianca Malone
The Sum Awards
The New Avengers
Mastermind
Dennis Russoff
Guest: Reflections
I, Claudius
Blooper: Chimpy Dog Food
Diana Darvey - Supercalifragiliciousexpialidocious
Poem: Pets
Nor Iron Bars A Cage...
Newscaster Peter Seymour
Guest: Reflections - Your Love Lifts Me Higher
One Happy Family
Tag: Body Building Course
Highlights
Edit
The New Avengers
Nor Iron Bars A Cage...
Newscaster Peter Seymour
Bionic Baby
Body Building Course
First Appearance of Sue Upton and Suzy Mandel
Spoofs in this episode include "The New Avengers" based on the British action series, "The Avengers" and "Bionic Baby" based on the American action series "The Six Million Dollar Man" and "The Bionic Woman."
Benny ends the episode with his cast members and a sword in his back.
Selected sketches from this episode appear in the "Video Sideshow" VHS from HBO Home Video.
---
Community content is available under
CC-BY-SA
unless otherwise noted.