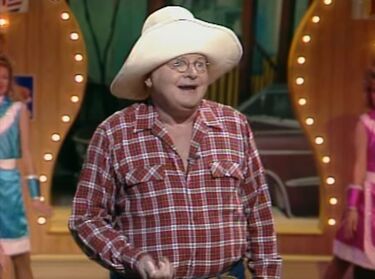 The Ballad of Bronco Benny was the opening number on April 27, 1988. It's exact name is unrevealed, but it goes by "Bronco Benny" in the DVD menu and by "Star Names" in the "Benny Hill . . . The Best Of" music album with a different set of lyrics than the episode. It is performed by Benny Hill as a cowboy in an urban cowby music hall surrounded by Bob Todd, Derek Deadman, Gary O'Bee, Duncan Pettigrew, Anna Dawson, Henry McGee and Sue Upton and Jon Jon Keefe as bartenders.
The Hill's Angels for this routine are Lindsay Cole (blue), Helen Carpenter (purple), Lorraine Doyle (green), Liz Jobling (yellow), Jenny Drummond (purple) , Miki Harvey (yellow), Sharon Kiel (blue) and Zoe Bryant (green). The song is notable for being one of the few times in the series Benny mentions American actors and entertainers.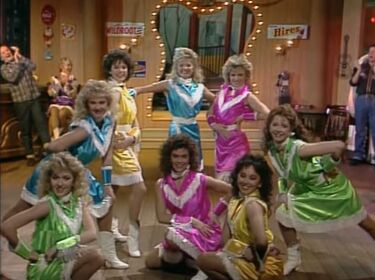 Now, when I was young, and my figure was sleek.
(Hill's Angels) Memories...
I had a different gal every night of the week.
And each gal knew for certain which was her day,
You see their names were Sandy, Mandy...
Trudy, Wendy, Fergie, Heidi and Sally-May.

And when people ask me why I never married,
Why I never took a wife...
One of my own that is!
I tell them it's because I have been in love with screen stars all my life.
Well, when our padre said, "Now, can you name the five disciples, my son?"
I said, "Well I sure can. they're Matthew, Mark, Olivia Newton-John..."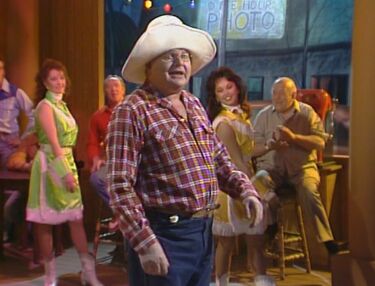 You see...
I'm fond of Jane Fonda, but is Jane Fonda me?
I'm mad on a lady called Madonna, but Madonna ain't mad on me.
I'm ready for Helen Reddy. Hell, I'm ready as I'm ever gonna be,
And if I could see more of Jane Seymour, I'd let Jane see more of me.
And there's a lot to see...

If I could see Ursula Andress, I'd be dying to take a second look.
I'd bring her a goose to cook, if I had a goose to cook.
I'd let Gloria Gaynor a little bit of weight as we'd picnic by Joan Rivers.
And if I got my burly chassis Glenn Close to Shirley Bassey,
I would boogie until my goose withers.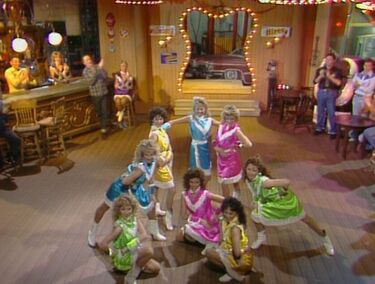 I'd like to get Lesley Ann Down down by my cottage by the bay.
I'd call Esther Rantzen I'd get my best pants on if she came down by Mexico way
If I tried to escort Anna Ford over to the fort, she'd just say, "No."
Well, if I can't see Anna in Havana, I'll see Esther in Mexico...

I'll see Esther in Mexico.

Episode(s)
Edit
Community content is available under
CC-BY-SA
unless otherwise noted.