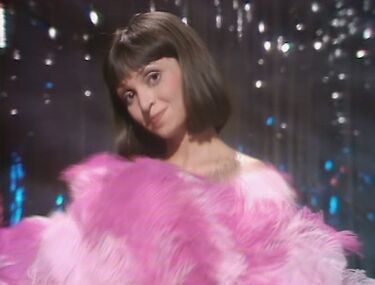 Teresa Lucas is an English actress, dancer and performer best known as a member of the Love Machine dance troupe and as a choreographer with Libby Roberts of the early 80s dance troupe Lipstick.
Lucas was born to an show business family. Her father, Fred Lucas, was a singer and her mother, Yvonne Lucas, was a tiller Girls dancer in the Royal Command Performance. Her father reportedly worked in the early years of Benny Hill's career. She studied dance and drama at the Arts Education School and eventually founded Love Machine with fellow dancers Libby Roberts, Claire Lutter and Jane Colthorpe.
Performing in dance halls and cabarets and doing work in live shows and commercials, the members eventually contacted Benny Hill to check out one of their shows in 1976, and he booked them to appear on his show, performing the songs "Think of the Boys," "The Flash" and "Dancing in the Nude" with Eddie Buchanan. The exposure on the show resulted in getting them international exposure and appearances on other TV shows, such as "Little and Large", "International Pop Proms" and various light entertainment TV shows in Europe.
After "The Benny Hill Show," Lucas and Roberts created the five-girl dance group Lipstick, who did a number of TV shows in the UK. She also began working as a free lance dancer working for various choreographers for live shows and TV entertainment and commercials.
She is currently married; her husband works within the airline industry.
Episode(s)
Edit
Community content is available under
CC-BY-SA
unless otherwise noted.