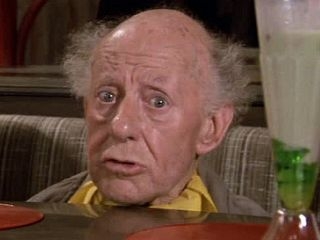 Sydney Arnold is an English comedy and theater actor whose career spans forty years and appearances in the TV shows "Dixon of Dock Green," "Z Cars," "Crossroads," "Doctor Who," "Hogg's Nest," "The Dick Emery Show" and and episode of the American TV series, "The Beverly Hillbillies," filmed in England.
He was born Arnold Sydney Roeg on February 21, 1900 in the neighborhood of Westminster in London, England, dropping his last name when he started acting and sometimes getting credited as "Sidney Arnold." Not much is known about his personal life, but his first known acting job was in the 1945 film, "Give Me the Stars" followed by "Farewell to the Pegasus." At only four-feet, eleven inches tall, he was mostly cast in comedies. His other TV credits include "Comedy Four," "Orlando," "King of the River," "Mr. Rose," "Ukridge," "Canterbury Tales," "The Sweeney." He also had an uncredited role in the movie, "Murder Most Foul," later getting more parts in the films "My Pal Fred," "Bonditis," "The Assassination Bureau," "One More Time" and the 1984 movie, "Top Secret!" with Val Kilmer, Lucy Guttridge, Peter Cushing, Michael Gough and Omar Sharif. He also appeared in Monty Python's "The Meaning Of Life."
Even at the age of eighty, Arnold was still acting and getting rave notices for his performance as Estragon in "Waiting for Godot" for the Causes Theatre Company. His last acting job was as a potential replacement for Jackie Wright on "The Benny Hill Show." He was also one of the founding fathers of British Actors Equity.
Arnold passed away on August 20, 1993 in Kensington, England.
Episode(s)
Edit
Community content is available under
CC-BY-SA
unless otherwise noted.