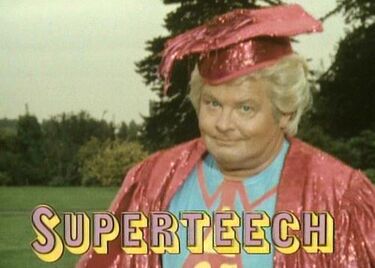 Production
Episode: 45
Date: January 5, 1983
Time: 50:47
Musical Director: Ronnie Aldrich
Vocals: The Ladybirds
Choreography: Linda Finch
Producer: Dennis Kirkland
Director: Dennis Kirkland
Writer: Benny Hill
Episode
Quickies - 2
Monologue: The Lifeguard
Quickies - 2
Friends to Tea with Henry McGee
Quickie: Bed Pan Humor
Television Censor Board
Hill's Angels: Ship's Cruise
Quickies - 5
Highlights
The Shadow Knows
Ship's Cruise with Louise English singing in French
Super-Teech
Cast
Quotes
Statue Graffiti - "Faith can move mountains - Faith is a big girl."
Trivia
First appearance of Jane Leeves in the series.
The "Egyptian Flu" quickie was previously done with Benny and Sue Bond on December 23, 1970.
In "Hill's Angels: Ship's Cruise," Louise English sings the songs, "Paradise," "Pour un flirt ovec toi" and "Casanova." In each number, the Angels doing back-up varies:

(bathing suits) Corinne Russell, Elfrida Ashworth, Gilian Adams, Sue Upton, Maria Whittaker, Jane Conaway and Tracy Evans
(lingerie) Sue Upton, Corrine Russell, Elfrida Ashworth, Gillian Adams, Maria Whitaker, Jane Conaway, Mandy Perryment

From this episode on, the Hill's Angels are no longer credited individually.
Super-Teech is possibly a spoof of the 1978 movie, "Superman" with Christopher Reeve and Marlon Brando. The third film in the franchise, "Superman III," also starred a few Benny Hill alumni, Bob Todd, Ronnie Brody and Helen Horton.
Super-Teech changing in an outhouse seems to be a parody of Superman's phone booth and Captain Marvel's mystical lightning bolt.
Alison Bell plays Wanda the Wicked West Whickam Whip Woman; she wears the exact same outfit she wore in the She-Hulk sketch in A Tribute to the Lower Tidmarsh Volunteer Fire Brigade.
The unidentified mansion in the Super-Teech sketch also appears in The B-Team sketch.
The unidentified mansion is used as both

St. Nana's School

and Wanda's base.
Clips from this episode appear in the HBO VHS "Video Spotlight."
Sequence
---