Jurassic World: Dominion Dominates Fandom Wikis - The Loop
Play Sound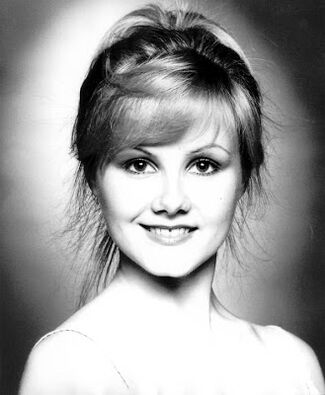 Sue Upton is an English dancer and comedic actress, best known as one of the longest-serving cast members of "The Benny Hill Show."
Born November 9, 1954 in Chadwell Heath, England, she was raised by her mother, having lost her father at three-years-old. She attended stage school, qualifying at the age of 16 as a dance teacher. She pursued a career as a dancer and cabaret singer as well as a model. She was a member of Love Machine, a female dance troupe in England. The group also appeared on three episodes of "The Benny Hill Show," although she had already left the group by that point. After leaving the group, Upton auditioned as a cast member for "The Benny Hill Show." She made her debut on the show on January 26, 1977, becoming one of the longest-serving female cast members of the show.
Due to her stint as a "Love Machine" dancer, Upton helped Benny cast and audition professional female dancers as the Hill's Angels, the show's version of "Love Machine." Although she served as both a coach and member of the Angels, she was a regular performer in the comedy sketches as well, playing everything from Benny's wife or girlfriend to an elderly old lady. Among her most remembered characters was the geriatric super-heroine Wonder-Gran. She played Stan Laurel to Benny as Oliver Hardy. She also played a bikini-clad assassin in the Charlene's Angels sketch, facing off against Benny as an escaping male Angel. During the filming of that sketch, she was burned by flash powder used to ignite her chest-mounted weapons. She also sustained bruises during one of the Wonder-Gran sketches when she pretended to be impervious to injury as the male cast members pelted her with light balsa props and polystyrene boulders.
During the series, Sue and Benny became very close and maintained a brother/sister relationship; although in an interview, Upton called herself and her family Benny's ersatz wife and children. Off-stage, Benny sometimes called her "Sue Uptonogood." She was married to music exec Roger Whatling and had two children, Richard Whatling and Louise Whatling, who was named after fellow Angel Louise English. Sue's friendship with Benny extended to her children, who eventually became cast members in the show's later years as members of Hill's Little Angels.
Between seasons, Upton also appeared in "Confessions from a Holiday Camp" in 1977 and "What's Up Superdoc!" in 1978. She also appeared in a training film for the British Ministry of Defence. However, in the 1980s, there was a noticeable fewer appearances of her in the series; many of her roles as Benny's wife or girlfriend were filled by Lorraine Doyle or Anna Dawson. She was more frequently cast as an Old Lady in sketches and was also spending less time as a Hill's Angel. This was possibly so Sue could spend more time with her kids. After "The Benny Hill Show" ended, Upton rejoined Benny in Benny Hill's World Tour: New York, playing a bank teller, Henry McGee's assistant and a member of the Common Cold Recovery Choir in 1991.
After Hill's death in 1992, Upton retired from show business, although she continued to make appearances on TV documentaries about Hill and about her experiences on the show. To this day, she remains a stalwart defender of Benny Hill's memory and his comedic legacy. She was also an active member of the now-defunct Comic Heritage, a nonprofit group which celebrated and promoted the history of British comedy and the remembrance of famous British comics.
In 2006, Sue was reunited with Alison Bell, Carla De Wansey, Jo Thomas and Alison Thomas for a "I Was a Hill's Angel" feature for the full release of the Thames TV series on DVD in its unedited form (albeit without his Australian and American specials), serving as a loving tribute and retrospective of their time on "The Benny Hill Show."
Today, Sue lives in Essex, east of London, with her husband and an "assortment of different animals," including a dog and three tortoises; her children and grandchildren live nearby.
Episode(s)
Gallery