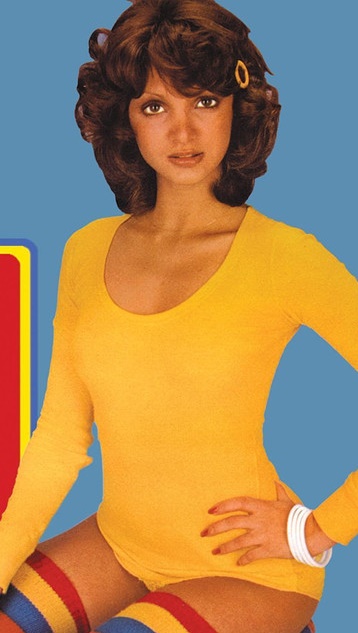 Stephanie Marrian is a British model, pop star and actress best known as the first Page 3 model in The Sun newspaper in England. Her film appearances include the films "The Crimson Cult" and "The Man Who Couldn't Get Enough." She was also a recurring cast member on "The Cut Price Comedy Show."
Born Stefanie Kahn on October 9, 1948 in Singapore to an Indian father and an English mother, she started acting and modeling in her early Twenties, getting bit parts in the movie "The Crimson Cult" in 1968, the TV series "Callan" in 1970 and 1972 mini-series "The Shadow of the Tower." At 22, she became the first Page 3 model for the The Sun newspaper, appearing on November 17, 1970 as Stephanie Rahn, a typo by a sub editor who misread her name. She later changed her name to Stefanie Marrian, using her mother's name and appearing regularly as the Page 3 girl from 1973 to 1978.
Appearing as a glamour model throughout the 1970s in magazines, papers and calendars world-wide, Marrian was also a member of a short-lived pop group called "Page Three" along with two other Page Three models, Gillian Duxbury and Mona Solomons. Her later roles included the TV series "Some Mothers Do 'Ave 'Em," "The Hot Girls," "The Man Who Couldn't Get Enough" and "Can I Keep It Up for a Week?" She was reportedly a bit player on "The Benny Hill Show," possibly playing one of the two chamber maids at the end of the "Victorian Scandals" sketch on February 23, 1977 (and possibly the uncredited reporter in Grand Wheelchair Rally), but this is unconfirmed.
Marrian had a long-term relationship with an actor Alan Tucker of "Doctor Who" fame that ultimately ended with a restraining order reported on in the British tabloids. She was also briefly engaged to the music promoter Rod MacSween.
In the early 80s, Marrian had small roles in "The World Is Full of Married Men" and "History of the World: Part I" with Mel Brooks and an uncredited role in "Monty Python's Flying Circus." Her last role was as a bit player in "The Cut-Price Comedy Show."
Episode(s)
Edit
Community content is available under
CC-BY-SA
unless otherwise noted.