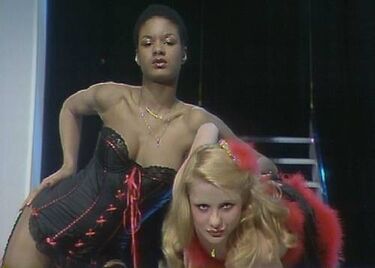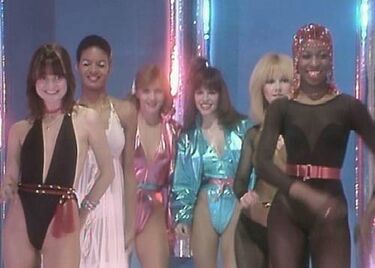 Sharon Haywoode is an English singer, dancer and entertainer, best known for the 1986 UK Top 20 hit single, "Roses," which she recorded under the name Sid Haywoode.
Born in London, Haywoode trained from an early age at London's Corona Stage Academy, later modeling, dancing and acting before starring on "The Benny Hill Show" as one of the Hill's Angels. In sketches, she played the maid in the "1994" sketch and danced in the "New York, New York " number on April 16, 1980. The only other known black Angel besides Susan Daly, she also appeared in the March 5, 1980 episode and in a leftover sketch that appeared on the March 25, 1981 episode.
After leaving "The Benny Hill Show," she also starred on the TV series, "The Gentle Touch," and appeared in the movies "Superman" and "Ragtime." She also worked in the West End theater and eventually joined Flick Colby's dancing troop, Zoo, from 1981 to 1982, later recording "A Time Like This" under a deal for Sony CBS records offering her a deal in 1983. The single reached the Top 5 in the US Hot Dance Club Play Chart and established her distinctive brand of soulful funk and pop. Her later singles, produced by Stock, Aitken & Waterman, include "You'd Better Not Fool Around," "I Can't Let You Go" and "Getting Closer," which was later covered by Kylie Minogue. In July 1986, she released the song, "Roses," which hit the top 20 in the UK music charts. Her debut album, "Arrival," released soon after "Roses," included Haywoode's cover version of Prince's "I Wanna Be Your Lover."
In 2011, Haywoode released an album named "Bounce Back," after collaborating with different producers in Australia, Netherlands, Italy and the United States. In the summer 2012, she created a music production company, "Wonderlick Productions," with her writing partner and music producer, Soundsinsane. Her song, "Excuses," reached #6 on Euro Solution's Independent Hi Energy Dance Chart in the United Kingdom. She now goes by the name, Haywoode, and continues to perform as a lounge singer in the United States while preparing a new album.
Episode(s)
Edit
Community content is available under
CC-BY-SA
unless otherwise noted.