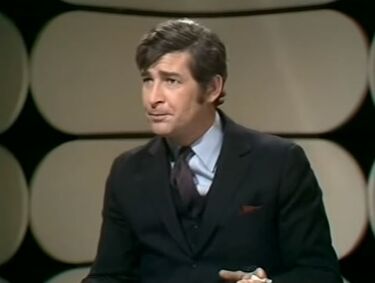 Production
Edit
Episode: 4
Date: March 4, 1971
Time:
Musical Director:
Vocals:
Choreography:
Producer: Peter Whitmore
Director:
Writer: Dave Allen, Austin Steele and Peter Vincent
Highlights
Edit
Dave Allen - "If man has a sense of humor about God, surely God has a sense of humor about man."
---
Dave Allen - "All the gags that I tell have been told to me by priests and nuns - Mind you, they're all out of work...."
---
Dave Allen - "The Australians are perhaps the most hospitable and generous people in the world. If you're stuck for a night, they'll give you a bed. Haven't got a drink? They'll give you a drink. Got no money? They'll give you money. No food? They'll take food off their plate and give it to you. It's those white Australians I don't like."
---
Dave Allen - "I spent three years of my life in Australia. In actual fact, I didn't spend three years; I spent eighteen months, but eighteen months in Australia is like three years anywhere else!"
---
Dave Allen - "The most prolific of all English authors is a man named anonymous."
---
Dave Allen (quoting a poem) - "As I was going up the stair,
 "I met a man who was not there.
"He is not there again today,
"I wish that man would go away."

Dave says he and his brothers used to pull the train stunt seen in the show. He has two brothers, John and Peter. John was the one who encouraged him in show business.
---
Sherlock Holmes was the literary creation of writer and novelist Sir Arthur Conan Doyle, beginning with the book, "A Study In Scarlet" (1887). Some literary experts believe the character was modeled after Dr. Joseph Bell, Doyle's professor at Edinburgh University.
Community content is available under
CC-BY-SA
unless otherwise noted.