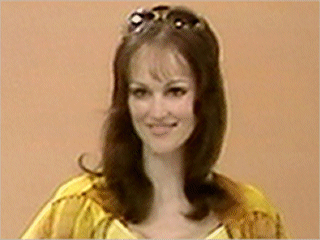 Sarah "Gypsie" Kemp was an English-Australian actress best known for the character of socialite Charlie Bartlett on the Australian soap opera "Sons and Daughters" which ran from 1982 to 1987.
Born in 1937, she left her husband and three kids in Australia to move to England further her acting career, landing roles in "Z Cars" and several roles in "Doctor Who," including a role as a UNIT radio operator in "Day of the Daleks." She became friends with Jon Pertwee during her time on the season before moving on to star in the October 25, 1972 episode of "The Benny Hill Show." She later told gossip columnist Craig Bennett, a close friend, that she found Benny to be a quiet frugal loner, a character very much unlike his on-screen persona. They stayed friends after the episode. Several years later, Bennett described his friendship with Sara and her time on The Benny Hill Show in his book, "True Confessions of a Shameless Gossip Paperback."
Kemp went on to star in the TV shows "Shoestring" and "Sporting Chance" before returning to Australia in 1980 and landing a role on "Sons and Daughters," credited as Sarah Kemp. The role was one of the longest running characters in the series, but after the series ended, she married the lighting director on the show, moving to live in cottage on the Gold Coast while she worked in an art gallery. Her last credited role as an actress was in the TV movie, "Mercy Mission: The Rescue of Flight 771" in 1993, but she quit acting after she stopped getting roles, later getting work as an English teacher. She briefly turning her interests to politics in 1999 when she ran for the New South Wales Legislative Council in 1999 on the Unity Party ticket.
A long time smoker, Kemp developed lung cancer. Not trusting doctors, she avoided treatment for several years until the damage became irreversible. She passed away at Bellingen Hospital in New South Wales on January 9, 2015. She was 77. After her death, Bennett met her daughter and was shocked to learn that she had never revealed to him that she had ever been a mother.
Episode(s)
Edit
---
Community content is available under
CC-BY-SA
unless otherwise noted.