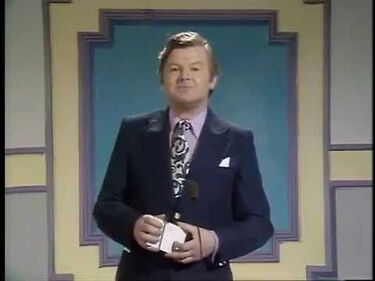 Production
Episode: 28
Date: April 21, 1976
Time: 50:51
Musical Director:
Vocals: The Ladybirds
Choreography:
Producer: Mark Stuart
Director: Mark Stuart
Writer: Benny Hill
Episode
Ballad: So Many Girls
Quickie: Girl in the Park
Humphrey Bumphrey

Moving On
Who's Afraid of Virginia Woolf
This is Your Life
Sale of the Half-Century

Getting To Know You
Eddie Buchanan - Dancing in the Nude
Is There Anything In It?
Quickie: Comanches!
Super Sonic
Tag: German Department Store
Highlights
Moving On
Getting To Know You
Biology With Bellamy
German Department Store
Cast
Quotes
David Bellamy - "The female crocodile in her native environment lays a thousand eggs every year and the male crocodile comes along and eats 999 of those eggs because if he didn't we'd be up to our bloody necks in crocodiles."
---
---
German Professor - "You must never "assume," because when you "assume," you make an ass out of you and me!"
---
German Professor - "If you drive in Western London, you must be very careful. If you park your car, they will give you a ticket. They should give you a medal!"
Trivia
Sequence
---
Community content is available under
CC-BY-SA
unless otherwise noted.