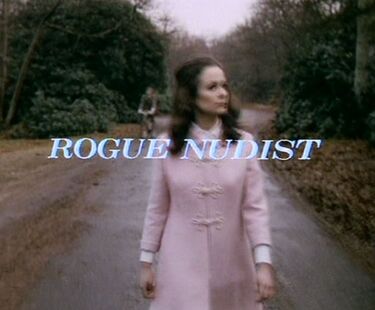 Rogue Nudist is a risque British film screened by Fred Scuttle and Nicholas Parsons. It features the characters and goings on at the Sunnydays Naturist Colony, a nudist colony for sunbathers.
The film starts with a voice-over by a shy young typist (Nicole Shelby) being followed by a lovelorn co-worker named Merwyn Cruddy (Benny Hill) following her on his bicycle. When she enters the colony, Merwyn decides to sign up as a new guest. At the main office, he iitially hears a yong woman singing, but it's actually the male desk clerk (Michael Sharvell-Martin). In his room, he discovers another co-worker named Martin (Jimmy Thompson) is a member who helps him get over his phobia. They catch up with the ladies (Nicole Shelby and Marian Davies) in a small garden where Merwyn still hides his nudity by passing back and forth behind a two-gated fence. When one of the female guests (Maggie Stredder) turn to depart fully clothed, the men jump up to ogle her adjusting her stocking strap.
Episode(s)
Edit
Community content is available under
CC-BY-SA
unless otherwise noted.