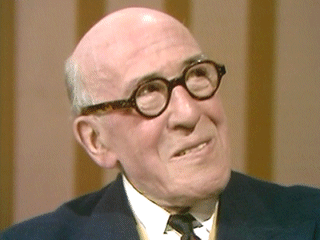 Robertson Hare is an English comedic actor best known for the British TV series "All Gas and Gaiters" and the movies "One Wild Oat," and "Banana Ridge." He was born John Robertson Hare on December 17, 1891 in London, England, the son of an accountant, and served with the British Army in France during World War I. After the war, he starred in eleven of the Aldwych farces, a series of twelve stage farces presented at the Aldwych Theatre in London, nearly continuously from 1923 to 1933. All but three of them were written by Ben Travers with Hare becoming famous for his mild-mannered characterizations. These were later successfully transferred from stage to screen with Hare enjoying success on the small screen late in life as Archdeacon Henry Blunt, the lead character of BBC's "All Gas and Gaiters" in 1966.
For most of his career, Hare played old men exaggerated for comedic effect, usually accompanied by his catch-phrase, "Oh calamity..." which he repeated through his career. Among his most successful creations was Willoughby Pink in "Banana Ridge" in 1938 in which he played a British Empire builder with a dubious past. In 1963, he starred in a long-running stage musical, "A Funny Thing Happened on the Way to the Forum" in which he was cast as Erronius to Frankie Howerd's Pseudolus.
In the Sixties, Hare toured in "Arsenic and Old Lace," taking time in 1962 to star with Wilfrid Hyde White in a comedy called "Crooks Anonymous." In 1968, he joined Naunton Wayne in "Oh, Clarence!," an adaptation of a P. G. Wodehouse Blandings novel, before gaining a new audience in "All Gas and Gaiters." In 1969, he was invited to appear on the "The Benny Hill Show" as the befuddled George Podmore for a spoof of "This is Your Life."
Sadly, hare passed away in London at the age of 79 from bronchopneumonia on January 25, 1979. He was survived by his daughter; his wife, Irene, having passed away in 1969 after over fifty years of marriage.
Episode(s)
Edit
---
Community content is available under
CC-BY-SA
unless otherwise noted.