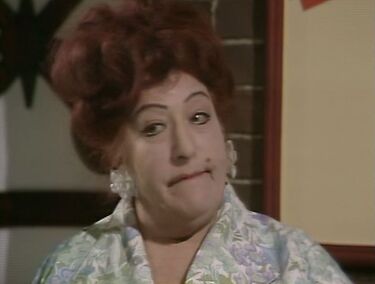 Rita Webb is an English comedy actress best known for her appearances on "The Benny Hill Show." She was born Olive Rita Thompson on February 25, 1904 in Willesden, England, the eldest child of Henry Augustus Webb and Rose Jeannette Keysor. She had a younger brother, Henry Richard Webb, who was also an actor, and two elder identical twin half-brothers named Leslie and Gordon Durlacher, from her mother's first marriage. She was the niece of Leonard Keysor, the first Jewish serviceman to win the Victoria Cross in the First World War.
At under five feet tall with a booming voice and dyed flame-red hair, she was often cast as an actress as a loud abrasive mother-in-law or Cockney-type character. She started acting in the 1940s at the Unity Theatre, later working for BBC productions by 1949. She was used as a comic foil for comedians like Spike Milligan and Eric Sykes, Her brother, Henry Webb, and her half-brother, George Webb, were also actors. She was particularly close to George until his death. She was married to Lionel Stanley "Thommie" Thompson until their separation after which she lived with banjo player Al Jeffery, who she called "Jeffie." He nick-named her "Podge."
Through the 1960s, Webb starred in a number of television appearances with Billy Cotton and alongside Arthur Haynes. Her many television credits include several appearances in Spike Milligan's "Q" series, "Dixon of Dock Green," "Till Death Us Do Part," "Sykes," "Up Pompeii!" with Frankie Howerd and "Steptoe and Son." She also appeared in supporting roles in many films including "To Sir, with Love," "The Magic Christian" Alfred Hitchcock's "Frenzy," "Confessions of a Pop Performer," "Come Play with Me" and "Revenge of the Pink Panther." she turned down a chance to appear on the TV series, "This Is Your Life," but she appeared several times on "The Benny Hill Show." In 1968, she appeared in a cameo role as a wrestling referee in the Dave Clark television production "Hold On, It's the Dave Clark Five."
Sadly, Webb passed away on August 30, 1981 at the age of 77 in Westminster. Her funeral was held at St Paul's Church, Covent Garden, the Actors' Church, after which she was cremated and her ashes scattered in the Garden of Remembrance. She was survived by Jeffie, her brother, Henry, and Henry's three children, whom she had regarded as her own.
Episode(s)
Edit
---
Community content is available under
CC-BY-SA
unless otherwise noted.