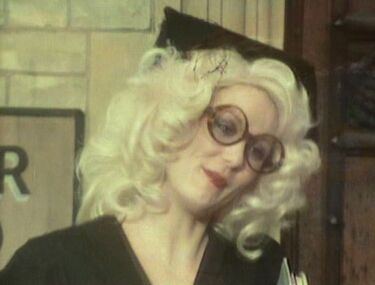 Penny Rigden was an English actress and dancer possibly best known for her appearances on "The Good Old Days" and "The Benny Hill Show."
Rigden was born at the Cockpit Restaurant on Eton High Street in 1945, the daughter of Christopher Rigden, who owned the location. She was educated at the Brigidine Convent in Windsor. Interested in dance, she started appearing in pantomime from the age of 11 at the Theatre Royal. Her father also arranged for her to make appearances at the Steam Fairs in Dorney. She later appeared at the Victoria Palace and eventually started working in television with the Black and White Minstrels, the Good Old Days music hall show and at the Variety Theatre in Leeds. She also appeared on "Doctor Who" and the March 23, 1977 episode of "The Benny Hill Show," playing an infatuation of Benny Hill in a dance club and a teacher in a flashback.
Through the Eighties, Rigden toured with Danny La Rue and took uncredited roles in TV shows such as "Doctor Who," "The Bill," "Keeping Up Appearances" and "One Foot in the Grave." While living in Dorney, she also taught dance at the Eton End School in Datchet. In 2006, she began struggling with cancer, passing away at the age of 63 on August 20, 2008.
Episode(s)
Edit
Community content is available under
CC-BY-SA
unless otherwise noted.