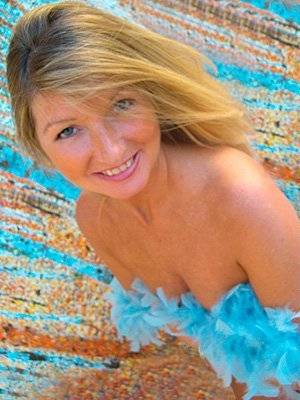 Penny Kendall is an English actress known for the movies, "The World Is Full of Married Men and "Confessions from the David Galaxy Affair." She also starred as one of the Hill's Angels on "The Benny Hill Show."
Kendell grew up in a family of performers. Her father was an actor, and her mother was a dancer. Her grandmother was a ballet dancer. At 14, she studied at the Italia Conti Stage School. As an actress, she landed roles in "The World Is Full of Married Men" and "Confessions from the David Galaxy Affair" before landing a role on "The Benny Hill Show." Her appearances on the show included the Hill's Angels routine, "Keep Young and Beautiful" routine of February 11, 1981 where she appears playing snake charmer to a shower nozzle in a bath tub. She also appears in the opener, Down on the Farm and "Ease On Down The Road" with the Angels in the same episode and as one of the Georgian Dancers on March 28, 1981. She also supplied vocals to a rendition of the song, "An Occasional Man," in the February 11, 1981 episode. Unfortunately, she was only with the show for a couple of months as she was still contracted to another show abroad. Of her memories on the show, she recalls being friends with cast member Bob Todd.
Since leaving Benny Hill, Kendall has starred on "The Kenny Everett Show," "What's on Next," Les Dawson's "Dawson's Watch" and "The Sweeney" among others. She also had small parts in films, such as "Valentino" with Rudolph Nureyov and Michelle Phillips' and "Odd Job" with David Jason. She also dod a music videos for Paul McCartney and Wings. After modelling and moving to Spain, she has been working in real estate in Palma de Mallorca.
Since married and divorced, Kendall now has a grown daughter named Stacey. She now currently lives and works in Spain.

Episode(s)
Edit
---
Community content is available under
CC-BY-SA
unless otherwise noted.