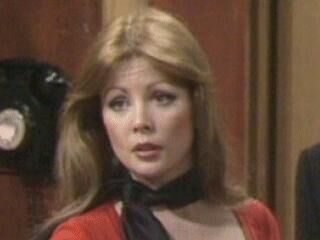 Penny Irving is a British actress and former Page 3 Girl best known for the TV series "Are you Being Served" and the movies "House of Whipcord" and "The Comeback."
Not much has been revealed about her life. She was born in 1955 in Hitchin in Hertfordshire County, England and became an actress, getting turned down for the lead role in a Roger Vadim movie. According to the DVD notes for "The Benny Hill Show" DVDs, she first met Benny Hill in 1974 in the veteran games at Dimpton-On-Sea. He cast her as one of several extras in the Woodstick sketch of October 25, 1972, but she is possibly best known as the longest-lasting of Mr. Grace's secretaries, Miss Bakewell, on "Are You Being Served?" She later went on to star in the films "Carry On, Dick" with Laraine Humphrys and Nosher Powell, "Percy's Progress," "House Of Whipcord" and as a singer in "The Comeback." Her other TV appearances include "The Professionals" and "Hi-De-Hi."
She has since retired from the entertainment industry and is now living in London, England.
Episode(s)
---
Community content is available under
CC-BY-SA
unless otherwise noted.