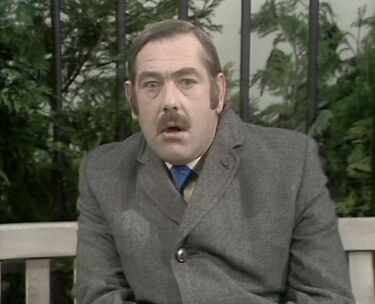 Patrick David Newell was an English television and film actor known for "The Odd Man," "Here's Harry," "No Hiding Place," "The Avengers" and "Never Say Die." Born March 27, 1932, he was educated at Taunton School and completed his National Service. Actor Michael Caine was a fellow classmate. He also attended the Royal Academy of Dramatic Art, alongside future actors, Albert Finney and Peter O'Toole.
Known for his large size, Newell was frequently cast as fat villains or in comic roles. Given his rotund appearance and ability for playing slightly stuffy types, he was a natural stooge in several comedy shows, working with comedians Arthur Askey, Jimmy Edwards and Ronnie Barker.
Turning down a role in the "Carry On" films, Newell starred in episodes of "The Odd Man," "Emergency-Ward 10," "Six More Faces of Jim," "Here's Harry," "No Hiding Place," "Z Cars" and "Room at the Bottom" before landing two episodes on "The Avengers." He later returned to the series in the role of "Mother," one of his most notable roles. His other cult television appearances included roles as abarber's customer, a bookie and a night club employee on "The Benny Hill Show," followed by roles on "The Persuaders!" and "Doctor Who." He also played Inspector Lestrade in the TV series, "Sherlock Holmes," also appearing in "The Adventures of Sherlock Holmes" in 1984.
Later in life, Newell succeeded in losing a substantial amount of weight before he passed away on July 22, 1988 in Essex, England. He was survived by his wife, Derina Newell, and his two children.
Episode(s)
Gallery
---
Community content is available under
CC-BY-SA
unless otherwise noted.