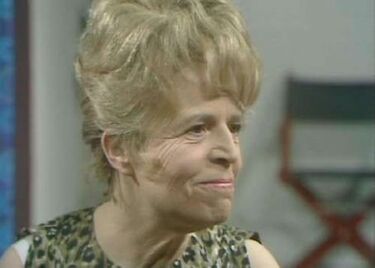 Patricia Lawlor "Pat" Hayes was an English actress whose career covered over five decades and BAFTA Television Award winning character actress. She was born in Streatham, London on December 22, 1909, and as a child attended the Sacred Heart School in Wandsworth, England.
Hayes was featured in numerous radio and television comedy shows between 1940 and 1996, including "Hancock's Half Hour," "Ray's a Laugh," "The Arthur Askey Show," "The Benny Hill Show,' "Bootsie and Snudge" and "Till Death Us Do Part." She was also cast in supporting roles for feature films, such as "The Bargee" in 1964, "The NeverEnding Story" in 1984, "A Fish Called Wanda," and in the Ron Howard film "Willow" in 1988. She also played the part of Henry Bones in the BBC Children's Hour radio program, "Norman and Henry Bones: The Boy Detectives" during the late Forties.
Her most substantial television appearance was in the title role of Edna, the Inebriate Woman in the series, "Play for Today" in 1971 for which she won a BAFTA award. She also worked as a voice actress providing the character voice for comedy puppet performances for television and DVDs for Woodland Animations.
Formerly married, Hayes is the mother of two daughters, Gemma and Teresa, and a son, British actor Richard O'Callaghan. (born Richard Brooke) by her marriage. She was formerly the head of the (British) Catholic Stage Guild, which her son, Richard, now chairs. She was also awarded an OBE (Officer of the Order of British Empire) in the 1988 Queen's New Year Honors List for her services to drama. She died on September 19, 1998 in Surrey. Her last movie, "Crime and Punishment", was released posthumously after it had been delayed due to a legal case.
Episode(s)
Gallery
---