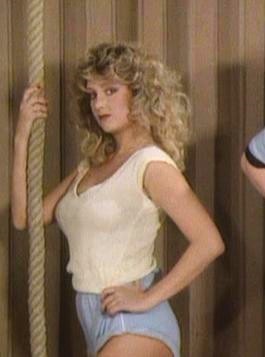 Nicola "Nikki" Critcher is an English actress, model and dancer who starred as one of the Hill's Angels on "The Benny Hill Show." Born in London around 1963, she attended drama school but moved to Somerset with her parents when she was sixteen, later moving back to London where she worked as a model. Her work eventually parlayed her into an acting career, and she starred in the movies, "Inn of the Frightened People," "The Hello Goodbye Man," "Keep It in the Family," "Whose Baby?" and the 1981 TV miniseries version of "The Hitchhiker's Guide to the Galaxy" as well as a possible uncredited appearance on The Benny Hill Show, playing an unidentified Angel in the Dibbles Health Farm sketch on May 27, 1985. Several of her other appearances have since been credited to Tracy Evans.
Now married, she has two daughters, Carly and Jessica, and sells second-hand clothes in the village shop she owns in Somerset.
Episode(s)
Edit
---
Community content is available under
CC-BY-SA
unless otherwise noted.