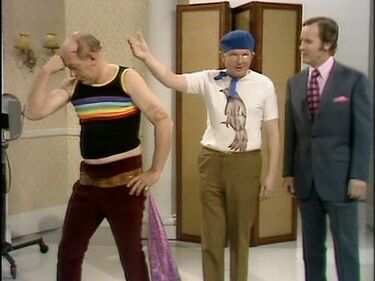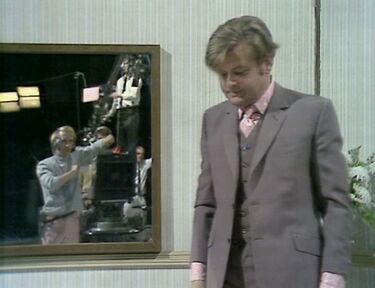 Production
Edit
Episode: 11
Date: December 22, 1971
Time: 50:08
Musical Director:
Vocals: The Ladybirds
Choreography:
Producer: David Bell
Director: David Bell
Writer: Benny Hill
Highlights
Edit
Fred Scuttle: Chief Drama Director and Dialogue Coach
The Great Pretender.
Benny Hill - "Please don't blame my doggy; it's not his fault at all. Someone left a wet umbrella standing in the hall."
---
Fred Scuttle - "I shot an arrow into the air; it fell to earth, I know not where. I lose more bloody arrows that way."
---
---
Fred Scuttle - "Chunky, say something soft and warm as silk, and if you say teacle pudding, I'll pound you."
---
---
---
King Henry - "Look what happened at my birthday party. She sat next to me at the table, and spent all night making very strange noises."
The Queenmother - "But she couldn't help it!"
King Henry - "But she kept looking at me as if I'd done it!"
---
Ronnie Brody is better known as a regular cast member on "Dave Allen at Large."
The "News At Ten" sketch includes archive footage of Queen Elizabeth, King Philip, Edward Heath and Muhammad Ali.
---
Community content is available under
CC-BY-SA
unless otherwise noted.