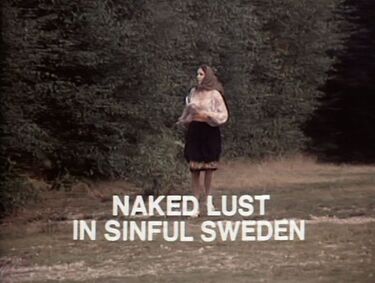 Naked Lust In Sinful Sweden is a Scandinavian adult film about a lonely Swedish youth (Benny Hill) with a creative way to meet girls. When a local girl named Bo Peep (Malou Cartwright) gets lost in the woods near his cabin, he invites her into his cabin, but when she asks for his help, he points to a tinted window that makes it look like it's about to rain. Convincing her they have to find something else to do while it rains, he kicks the door shut (in the face of one of the missing sheep) and takes her to his bed, but she's hardly protesting as this is happening.
A short time later, Bo Peep's sister (Andree Melly) shows up looking for her, and he pulls the same trick on her. They both also jump into his bed with her just as excited as he is.
In time, Bo Peep's mother (Bella Emberg) shows up looking for her daughters, but she's obviously up to the young man's tricks. Entering his cottage, she sees the tinted window and tries pulling his own trick on him. As she offers to stay inside as it rains, he's both confused and dismayed. As she starts tugging off her clothing, he pulls out an umbrella to go searching for the sheep in the rain.
Episode(s)
Edit
Community content is available under
CC-BY-SA
unless otherwise noted.