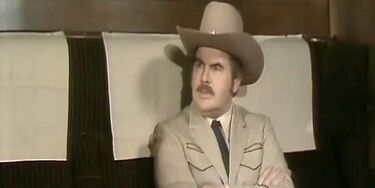 Production
Edit
Episode: 27
Date: March 24, 1976
Time: 50:58
Musical Director:
Vocals: The Ladybirds
Choreography:
Producer: Mark Stuart
Director: Mark Stuart
Writer: Benny Hill
Highlights
Edit
The Handy Man
Murder on the Orient Express
Robin Hood
Fanny Craddock - "I have big brothel in Hong Kong... And a little sister."
---
Fanny Craddock - "The Shu-shu bird only have one mating season a year. It lasts twelve months."
---
Henry McGee - "Will he be able to live in it?"
Fred Scuttle - "Our goldfish lived in it for three weeks before it died."
Selected sketches from this episode appear in "Video Revue" from HBO Home Video. 
The sketch, "Murder on the Orient Express," includes the cast playing characters from several American 70s crime dramas, including "Cannon," "Barnaby Jones," "McCloud," "Kojak," "Columbo," "The Invisible Man" and "Police Story."
The Hercule Poirot characterization parodied by Benny was the version created by Albert Finney in the 1974 all-star film version of "Murder on the Orient Express."
---
Community content is available under
CC-BY-SA
unless otherwise noted.