Los Zafiros was the name of two South American-style music bands that performed during the 1970s. One group originated in Cuba while the other originated in Spain.
Not much is known about the career of the Spanish group. The group included singers Alberto Martin, Ricardo Ogando and Pepe Pazos; they all performed vocals with Pazos playing the requinto guitar. The group was highly successful with high record sales and popular tours at home and abroad, including one appearance on "The Benny Hill Show" on the BBC and two more on October 14, 1970 and December 5, 1973 for Thames TV. They also appeared several times on "The Morecambe and Wise Show."
Not much is known about the trio today, but it is known that Alberto Martin has since passed away, the group possibly splitting up with his death.
Episode(s)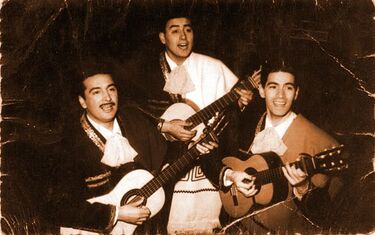 ---