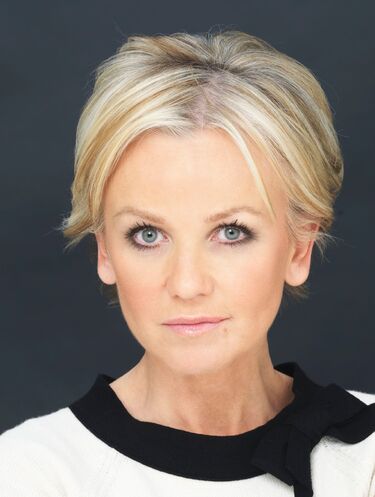 Lisa Jackman is an English actress who starred as one of the Hill's Angels on "The Benny Hill Show."
Born November 24, 1963 in the Elephant and Castle neighborhood of London, England to a single mother, she was raised on an East London housing estate, and was encouraged by her mother to pursue her obvious talent for entertaining, enrolling at the local drama school for weekend classes. First acting on TV at the age of 11 in a school program, "A Place Like Home," she starred in the group, "Unity," in 1981, singing "For Only a Day" on BBC TV's "A Song for Europe.
As an actress, Lisa went on to have roles in "Remembrance," "The Dark Crystal," the 1983 James Bond film "Octopussy" and as one of the Hill's Angels on the April 25, 1984 episode of "The Benny Hill Show."
In 1985, she beat 3000 contenders to become co-presenter of "No Limits," a pioneering youth program which was featured in the BBC's early evening schedule. This appearance was followed by a stint as children's presenter on Thames TV's popular TV series, "Splash", and as a foil to Russ Abbot and Les Dennis, both popular comedians of the day.
By 1993, auditioned for the fole of Daphne Moon on the American TV series, "Frasier," losing out to fellow Angel Jane Leeves. (Around this time, she seems to have been confused with Lisa Maxwell of "The Lisa Maxwell Show." This kind of makes it difficult to separate their credits.) She also starred on "Acapulco H.E.A.T." and "Murder, She Wrote," returning to England to star in "Grease" on the London stage and in the popular musical, "Boogie Nights." She also starred in the TV series "In Deep" and "The Bill." In 2009, she joined the ITV lunchtime chat show, "Loose Women," as a regular panellist and stayed until March 2014. During her time on the show, she also appeared in the BBC-One soap opera, "EastEnders."
In 2014, Lisa married her long-term partner Paul Jessup on the grounds of their house located in Edge.They have a daughter who was born in 1999. She was reunited with her birth father in 2008. As of 2016, Lisa is currently playing Judy Garland in the UK tour of "End of the Rainbow."
Episode(s)
Edit
---
Community content is available under
CC-BY-SA
unless otherwise noted.