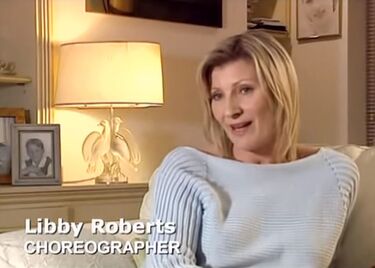 Elizabeth "Libby" Roberts is an English actress, dancer and choreographer best known for the Libby Roberts Dancers on "3-2-1", the Hill's Angels on "The Benny Hill Show" and "The Fruit Machine."
In her youth, Roberts attended dance and singing classes privately, whilst at Maidenhead High School (now Newlands Girls' School) in Berkshire, England, and was in the chorus at the Windsor Pantomime Christmas 1966. From 1968, she attended a Performing Arts College in London, then worked professionally as a dancer at The Stork Club, later joining with Teresa Lucas, Claire Lutter and Jane Eve to create Love Machine in the 1970s. She was a hostess on Ted Roger's game show "3-2-1" in the 1980s, which later showcased the Libby Roberts Dancers, and she had a number of small acting roles in various sketch shows. She first appeared on "The Benny Hill Show" as a dancer with Love Machine before the Hill's Angels.
Roberts ended up helping Benny discover many of the dancers who became the Hill's Angels on "The Benny Hill Show" and succeeded Linda Finch as their choreographer on the show. She also appeared in the sketch, "Sale of the Half-Century" on April 21, 1976. In a documentary, she describes Benny as a major influence on her life and career.
Libby has been married to Barry Johnston, managing director of a TV facilities company since 1984 and now lives in Surrey. She has three children; one of which, Adam Johnstone, was one of the Hill's Little Angels appearing in sketches in the series. Her other two children are the twins, Ben and Lucy. She now works as a fitness consultant.
Episode(s)
Edit
---
Community content is available under
CC-BY-SA
unless otherwise noted.