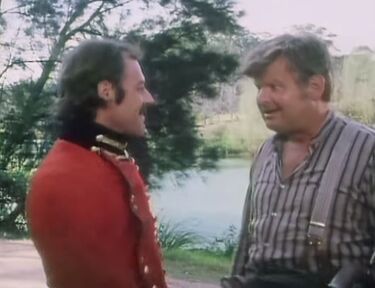 Les White is an Australian actor, stuntman, director and production manager and assistant director, probably best known for "The Earthling," "Willow," "Without A Clue" and "The Little Convict."
Not much of his life and career are known. His early credits as an actor include roles in the television shows "The Splendid Spur," "Secret Agent," "The Informer," "Callan" and "The Avengers" and roles in the movies "Carry on Cowboy" and "The Deadly Affair." In 1968, he did his own stunt work in the movie "Where Eagles Dare." His other TV work includes appearances in "The Saint," "The Champions," "My Partner, the Ghost," "The Persuaders," "The Sweeney," "Space: 1999" and "Blake's 7" where he again did his own stunt work.
In 1977, he handled production in and starred as the mustached guard in Benny Hill: Down Under. However, through the 80s, he was almost entirely doing stunt work in American films being shot in Australia, such as "Superman III," "Krull," "The Living Daylights," "Willow" and "Batman" with Michael Keaton and Jack Nicholson. His last acting jobs were in the movie "Without a Clue" and the "Zorro" TV series. He passed away on July 20, 2009.
Episode(s)
Edit
Community content is available under
CC-BY-SA
unless otherwise noted.