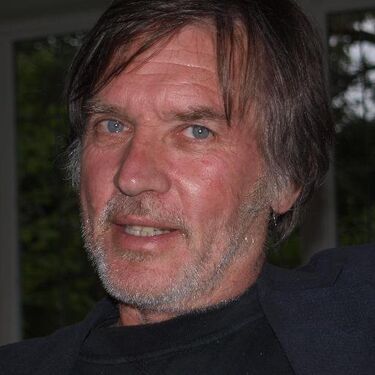 Laurie Goode is an English actor and musician best known for starring in several movies in uncredited roles or as extras. He is probably best known for playing the Imperial Storm-Trooper who hit his head on a low beam in the movie, "Star Wars," which also starred David Prowse. He was born Laurence Philip Goode in Windsor, England in 1945 to parents from Hackney in East London, moving out of the area during the Blitz and ending up homeless twice. His relatives include Victorian actor and writer, George Grossmith; his grandmother, May Combes, was a teenage music hall performer, often appearing on the same bill as actress Dorothy Ward.
Raised in Woking, England, Goode was attended the same school as singer Billie Davis. As a teenager, he learned to play the guitar, also getting involved in photographic modelling under top fashion guru and entrepreneur, John Stephen, for countless photo sessions. Featured in advertising campaigns for a period exceeding two years, his photos appeared in numerous publications. Goode also appeared in bit parts and as an extra for several television and movie project through the 70s and 80s. His TV appearances include "Popdown," "ITV Sunday Night Theatre," "The Wednesday Play" and and role as a hippie in the Woodstick sketch on "The Benny Hill Show." In 1978, he played three roles in "Star Wars" as a Rebel soldier, an alien in the Cantina scene and a Storm-Trooper hitting his head entering a scene. The blooper which made it into the movie became so iconic that Goode wrote and recorded a song, "Who Was The Stormtrooper Who Banged His Head!?" that was released on January 20, 2016. It was his pop debut single at 70.
With his main interest in music, Goode recorded "I Chose the World" with musician Phil Collins in one of Denmark Street's studios in London in 1970. He also wrote with song-writer Lionel Bart in 1981 on a project was never completed. He also wrote the song, "Devil's Disciple," with actor and singer Mike Berry and wrote a column for The Beat Magazine. He also teamed up with the London band, Uproar, until the group broke up. Goode also started acting again, taking his first speaking roles for film and TV directors, John Dexter and Viktors Ritelis, appearing in "I, Claudius," "Blakes 7," "The Hitchhiker's Guide to the Galaxy," "The Goodies" and "Doctor Who."
Goode also wrote two plays for David McGillivrays' company, The Entertainment Machine; both plays were performed at The Edinburgh Festival. He has also written for Mick Carling's video company UXB and The Beat. He also appears at times in Science Fiction and Fantasy conventions in connection to his roles on "Star Wars."
Episode(s)
---
Community content is available under
CC-BY-SA
unless otherwise noted.