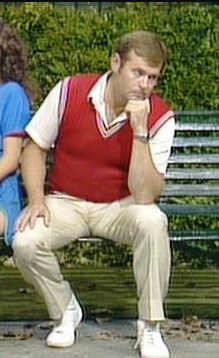 Ken Sedd is an English actor and stuntman possibly best known for his work with Benny Hill on "The Benny Hill Show."
There is not much known about his life or career. Born as Kenneth Seddington, he worked as a actor in bit parts in episodes of the TV shows "Adam Adamant Lives!" and "Softly Softly" before meeting Benny Hill during the years of his TV series at the BBC. He went on to appear in "Z Cars," "Doomwatch," "Upstairs, Downstairs," "Doctor Who" and "The Two Ronnies."
For twenty-five years, Sedd stunt-doubled or stood in Benny Hill in his movies and TV show at Thames TV, particularly in scenes where Benny played one or more characters. He later started appearing as a sketch player in his own right, often playing several characters in one sketch. Among his roles, he has played a tavern owner, photographer and victim of a fire in the Lower Tidmarsh Volunteer Fire Brigade, a racer and a hitch-hiker in the Grand Wheelchair Rally, a criminal and a patient in a Wonder-Gran sketch and an an opined boyfriend in Stupid Cupid.
His current whereabouts are unrevealed; he is possibly not to be confused with Kenneth Seddington, the director of the International UFO Congress.
Episode(s)
Edit
---
Community content is available under
CC-BY-SA
unless otherwise noted.