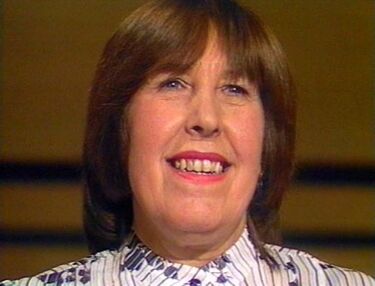 Kathy Staff is an English actress probably best known for the TV series "Last of the Summer Wine" and the movies, "Mary Reilly" and "The Dresser."
The daughter of a clothing company manufacturer and mission church lay reader, Kathy was born Minnie Higginbottom on July 12, 1928 in Dukenfield, England, but she did not care for her name and changed it to Kathryn Brant for her early work as an actress. After she married John Staff on August 18, 1951, she changed it to Kathy Staff for the rest of her career.
Originally wanting to study ballet, Kathy had to forgo those dreams when her parents couldn't afford the tuition fees. She instead worked as a shorthand typist and did clerical work for the National Gas & Oil Engine Company in Ashton-under-Lyne, eventually starting her career as an extra in 1949 with repertory companies in Scotland and Wales. Briefly retiring from the stage to raise her family, she started working as an extra for Granada Television in the Sixties; her first TV projects were the TV shows "A Kind of Loving," "Here's Harry" and "How We Used to Live" until she got the recurring role of Lorna Everitt on "Castle Haven." She also had a regular role as Doris Luke in the soap opera, "Crossroads" from 1978 to 1984 and from 2001 to 2002. Her other television roles included "Coronation Street," "No Frills," "Open All Hours," "Dawson's Weekly" and "The Benny Hill Show." She also appeared in a television version of the film, "Separate Tables," in 1983. Her film work includes "A Kind of Loving," "The Family Way," "The Dresser," "Camille," "Little Dorrit" and "Mary Reilly."
Staff passed away from a brain tumor at the age of 80 on December 13. 2008 at the Willow Wood Hospice in Ashton-under-Lyne with her husband John at her bedside. Her funeral took place at St Mark's Dukinfield, where she was a lifelong member and sang in the choir. She was commemorated in a memorial screen at the church and survived by her husband, John Staff, who died in December 2011, and her daughters, Catherine Staff and the Rev. Susan Staff-Jackson, one of the first women to be ordained in the Church of England.
Episode(s)