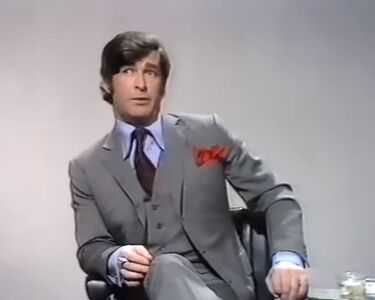 Production
Episode: 14
Date: January 29, 1973
Time:
Musical Director:
Vocals:
Choreography:
Producer: Peter Whitmore
Director:
Writer: Dave Allen, Austin Steele and Peter Vincent
Episode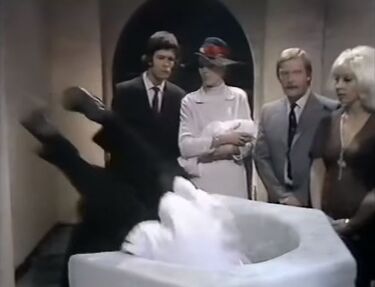 Highlights
Cast
Quotes
Dave Allen - "God bless the women; where would we be without you?" (pauses) "Free!!"
---
Dave Allen - (grinning) "Michael's never been the same since Jackie sat on him." (following the Lady Godiva sketch)
---
Dave Allen - "They don't make movies like that anymore, but we do." (about movies)
Trivia
Dave identifies his childhood influences as Ronald Colman, Errol Flynn, Roy Rogers, Hopalong Cassidy and John Wayne "with his own hair."
Ebenezer Hampton and his brother Rufus are the unseen characters mentioned in the Lady Godiva sketch.
The Abraham Lincoln sketch in this episode is included in the "Vintage Dave Allen" tape.
Sequence
Community content is available under
CC-BY-SA
unless otherwise noted.