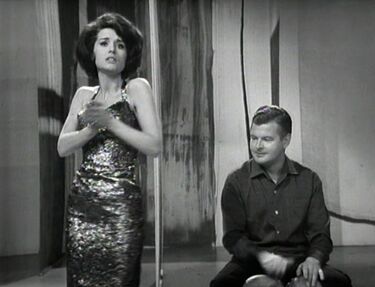 Julie Rogers is an English singer and entertainer, best known for her multi-million selling song, "The Wedding".
Born Julie Rolls on April 6, 1943 in Bermondsey, England, she is the youngest of five children. She grew up with piano lessons and attended Kingsbury County Grammar School, but not Kingsbury High School, which did not exist until 1967 when she was 24. She later worked as a dancer in Spain, a secretary in Britain and a stewardess on a Union-Castle Line ship before singing with the Teddy Foster Orchestra, with whom she toured the United Kingdom and America. She received a recording contract with Philips Records in 1964 and released her debut single, "It's Magic," originally a hit for Doris Day in 1948.
Rogers also had a hit with "The Wedding" in the United Kingdom and Australia, after becoming successful for Anita Bryant and Malcolm Vaughan in 1961, but Rogers' version outsold them both, selling over seven million copies by 1972. She had other hits with "Like A Child" and "Hawaiian Wedding Song," both in 1965. Through her career, she performed on "The Roy Orbison Show," "Val Parnell's Sunday Night at the London Palladium," "Top of the Pops," "The Jimmy Dean Show," The Benny Hill Show on the BBC, "The Ken Dodd Show," "Juke Box Jury" and "Thank Your Lucky Stars" among other musical shows.
In 1968, she married Teddy Foster, and they remained a couple until Foster's death in 1984 from renal failure. In 1987, she married show business agent, Michael Black, the brother of lyricist Don Black, who has since acted as her manager.
In 1992, she recorded a demo of "You Only Live Twice," which appeared on the 1992 limited edition version of the album, "The Best of Bond...James Bond." The song's composers, John Barry and Leslie Bricusse, later wrote a completely different version of the song which was recorded by Nancy Sinatra for the movie.
Rogers has been consistently touring since the 1960s. Her most recent release was the 2003 album, "Sing Another Song."
Episode(s)