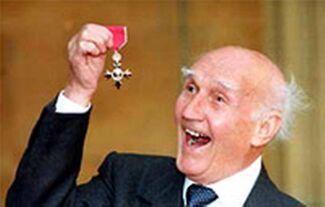 Johnny Hutch is an English actor, comedian and acrobat from the age of fourteen, best known as one of the elderly sidekicks to Benny Hill on "The Benny Hill Show."
Born John William Hutchinson on August 8, 1913 in Middlesbrough, England, Hutch was a paratrooper during World War II. After the war, he became an entertainer, performing as a skilled tumbler, dancer, and movie stuntman on the music hall circuit performing in various knockabout comedy acts and progressed from there to appearances in various traveling circuits. Performing well into his seventies, he won the World Circus Championships in 1976, where he performed a full twisting backward somersault at the age of 63.
In 1988, Hutch auditioned for "The Benny Hill Show," as a replacement for Jackie Wright, the comedy partner of Benny Hill. He appeared in the last two years' worth of shows as well as the Benny Hill's World Tour: New York special.
In 1994, he was awarded the Member of the Order of the British Empire for his services to fringe theater. He passed away on December 9, 2006, in Tooting, England, survived by his wife, Jean Phillips, and his son.
Episode(s)
Edit
---
Community content is available under
CC-BY-SA
unless otherwise noted.