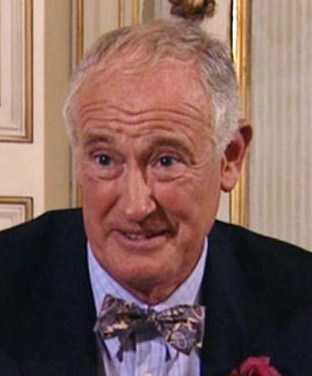 John Quayle is an English television actor best remembered for his roles in many sitcoms, including "All Gas and Gaiters," "Terry and June," "Steptoe and Son" and "The Liver Birds."
Born December 21, 1938, Quayle's first main TV role was that of Jim Hawkins in the 1951 BBC serialisation of "Treasure Island." He also appeared episodes of "Greyfriars School," "The Power Game," "No Hiding Place," "Doomwatch," "The Dick Emery Show," "The Good Life," "The Duchess of Duke Street," "Happy Ever After," "Mind Your Language," "The Fall and Rise of Reginald Perrin" and a semi-regular role on "Upstairs, Downstairs."
Quayle also starred in two episodes of "The Benny Hill Show," appearing in the Grand Wheelchair Race in the December 26, 1978 episode and playing a Sam Spade-esque detective in the April 25, 1979 episode.
In the 1980s, Quayle played the two roles that he is perhaps the most remembered for, the Duke of Broughton in the BBC period drama "Nanny" and becoming the third actor after Terence Alexander and Tim Barrett to play the Medfords' best friend, Malcolm, on "Terry and June." He also played a lead role in the sitcom, "Farrington of the F.O." His later roles included appearances on "Hippies," "Coronation Street," "The Bill," "The Midsomer Murders," "Monarch of the Glen" and "Lab Rats."
Quayle has also had appearances in the theater, starring in productions of Agatha Christie's "Afternoon at the Seaside" and "Light Up The Sky." His films include "Night Train to Paris," "Privates on Parade," "Longitude," "Seeing Red," "A.K.A." and "Fish Tales."
Since 1976, Quayle and his wife, Petronell, have used their farmhouse as an animal sanctuary, starting with two donkeys from the Donkey Sanctuary near Sidmouth and later adopting their third donkey, Jacob. Other animals included a pony, a horse, three pugs and a Russian Blue cat.
Episode(s)
Edit
---
Community content is available under
CC-BY-SA
unless otherwise noted.