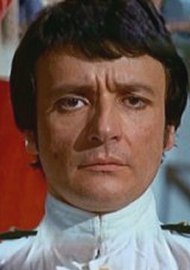 James Edward "Jimmy" Thompson was an English actor, writer and director. He was born October 30, 1925 in Halifax, England and educated at St. Peter's School in York. As a young man, he began his career in repertory theatre in Yorkshire, later touring with a theatrical company headed by Jean Forbes-Robertson.
After his national service, he moved to London where he starred on stage in the West End. In 1956, he became known as for his impersonation of Liberace, portraying the famous pianist the in the revue, "For Amusement Only," at the Apollo Theatre. Liberace brought a class action suit for the potrayal of his character in the play with Thompson settling out of court, making a donation to the musician's charity.  In 1959, Thompson with his wife, Nina, co-authored and presented at the Lyric Theatre in Hammersmith the musical comedy, "The Quiz Kid." In 1964, he starred in "Monsieur Blaise" at the Royal Court and Phoenix theaters, a play adapted by his wife from the Claude Magnier farce. He also starred in "The Englishman Amused" in 1974 at the Young Vic, another production which again he co-wrote with his wife.
Through his career, Thompson appeared often on British television, making appearances on "The Pickwick Papers," "London Playhouse," "The Scarlet Pimpernel," "Saturday Playhouse," "The Ken Dodd Show" and "Six More Faces of Jim." He was a semi-regular on "Pink and Perky" and also starred in two episodes of "The Benny Hill Show," starring in "The Hitch-hiker" and "Rogue Nudist" sketches on March 11, 1970 and as a pirate and a secretive lover on December 27, 1972. His film appearances included "Carry On Regardless," "Carry On Cruising" and "Those Magnificent Men in their Flying Machines." His late television appearances include "Lord Tramp," "The Dick Emery Show," "The Chiffy Kids," "George and Mildred" and "Bernie."
Appearing most in theater, he appeared at the Whitehall Theatre in "Spread a Little Happiness," the Vivian Ellis musical in 1992. His directorial credits included directing "Perchance to Dream," "Don't Misunderstand Me," "My Giddy Aunt," "My Wife Whatsername," "Blithe Spirit" and the original production of "Jeeves Takes Charge." After the death of his wife in 1999, he retired to York where he died on April 21, 2005. He was survived by his two children.
Episode(s)
Edit
---
Community content is available under
CC-BY-SA
unless otherwise noted.