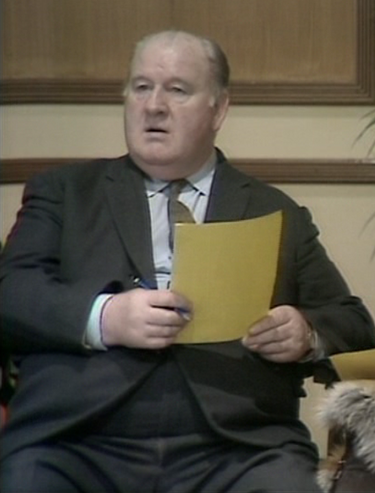 James Tyson is an English actor best known for his comedic roles in bit parts on British television and the movies. Born September 2, 1912 in London, he started acting in a string of uncredited roles in the movies "The Belles of St. Trinian's," "All at Sea" and "Trial and Error" before finally getting credited in an episode of "Doctor Who." Followed by appearances on "The Avengers," "The Wednesday Play," "Seven Deadly Sins" and "St. Ives," he also made an appearance in the movie, "Inspector Clouseau" as well as uncredited appearances in the movies "Don't Raise the Bridge, Lower the River" and "Where Eagles Dare."
Tyson also appeared in several episodes of "The Benny Hill Show," including three episodes for the BBC and five episodes on Thames Television. Among his "Benny Hill" appearances, he is possibly most recognized as "the fat bald one" in "Scuttle's Keep Fit Brigade" on February 23, 1972 and in the "Adjudicating Panel" sketch on March 22, 1972. He also played the drums in the "Poor Prunella" segment in the same episode and in the movie, "If You Were the Only Girl in the World" and the TV series "Upstairs, Downstairs." Sadly, he passed away from a heart attack on September 9, 1974 in England, one week after his 62nd birthday and four months after his last appearance on "The Benny Hill Show."
Episode(s)
Edit
(BBC)
(Thames TV)
---
Community content is available under
CC-BY-SA
unless otherwise noted.