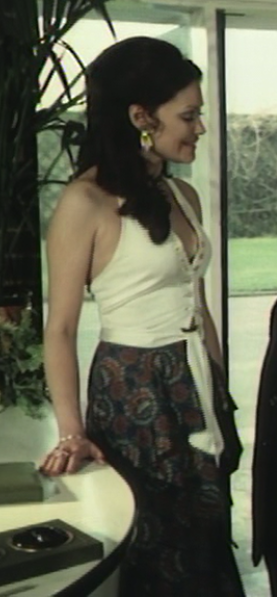 Jeannie Collings is a British actress and TV hostess best know for appearing in the 70s British game show, "The Golden Shot," and the movies, "The Wild Geese," "Adam and Nicole," "The Last of the Best Men" and "The Awakening of Emily."
Collings was born in 1952 in Liverpool, Merseyside, England. Not much is known about her early career, but she seems to have started her acting career on "The Benny Hill Show," starring in the March 13, 1974 "Scuttle Escorts" sketch and in a few sketches in the September 24, 1975 episode, later posing for Mayfair magazine in August 1974 and appeared in the movies, "Confessions of a Window Cleaner" with Clare Russell and "It's Not the Size That Counts."
Later roles included appearances in the movies "I'm Not Feeling Myself Tonight," "The Bawdy Adventures of Tom Jones," "Carry On England," "The Ups and Downs of a Handyman," "The Awakening of Emily," "Queen Kong," "Marquis de Sade's Justine" and "The Wild Geese," where she was credited as Joanna Collings. She also appeared in episodes of "The Wodehouse Playhouse" and "The Liver Birds" in 1976.
Episode(s)
Edit
---
Community content is available under
CC-BY-SA
unless otherwise noted.