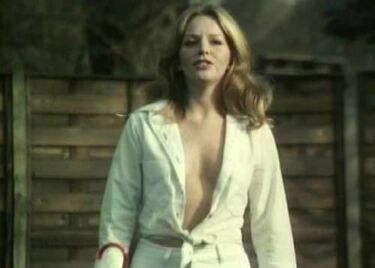 Jane Eve is an English actress, singer, dancer and director, known for the movies "The Meaning of Life," "Can't Stop the Music" with Bruce Jenner and Valerie Perrine and "Consequences."
Born Jane Margaret Colthworphe in 1956, Eve was schooled in dance at the age of four, primarily in ballet. At eleven, she attended the Bush Davies boarding dance school. She played a ballet dancer on the "Passion Play" album cover for Jethro Tull and in the film that ran at his concerts.
She started out as a dancer with the music troupe Love Machine in the Seventies, gaining a lot of popularity on "The Benny Hill Show," after getting discovered at The Penthouse Club in Mayfair London. Along with the other group members, she also starred as a sketch performer on the show, later leaving the show when Benny Hill created the Hill's Angels.
Colthworpe eventually joined the Hot Gossip dance troupe in the late 1970s and early 1980s, appearing in "Can't Stop the Music" and Monty Python's "The Meaning of Life." In 1978, she married Nick Newman, the tour manager for Love Machine. They eventually had two sons. Credited as Jane Newman, she appeared as one of the "Naughty Bits" performers on "The Kenny Everett Television Show" from 1982 to 1983, a role she auditioned for against Jane Leeves.
Colthorpe was also dancer in "The Main Attraction," a cabaret style show on TV called "The Main Attraction." Arlene Phillips of Hot Gossip eventually invited her to be her assistant on Andrew Lloyd Webber's "Starlight Express" in London.
Now credited as Jane Eve, Colthworpe works as a dance teacher. In 2016, she wrote and directed the short, "Consequences."
Episode(s)
Gallery
Community content is available under
CC-BY-SA
unless otherwise noted.