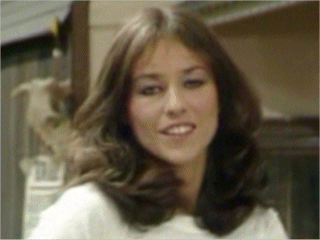 Jane Conaway is an English actress and dancer who starred as one of the Hill's Angels on "The Benny Hill Show."
Not much is known about her career, but it is believed she started out as a dancer, later appearing as a dancer and actress on "The Benny Hill Show," appearing as an Asian entertainer in the Chinese Circus routine and the "Hill's Angels on Deck" routine on January 5,1983, which ended with her losing her towel as Benny Hill tossed her a package. She also starred in the "Wild, Wild West" sketch on March 16, 1983.
Now an author, she now goes by the name Pamela Rhatigan and works as a clairsentient health practitioner and published author. She practices using healing energies in massage, exercise and yoga and runs meditation groups, yoga and Yogalates classes. She also practices Reiki, NLP, Reflexology and various Massages, including Natural Facelift, pregnancy massage and baby massage.
Episode(s)
Edit
---
Community content is available under
CC-BY-SA
unless otherwise noted.