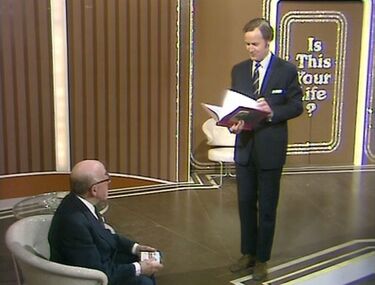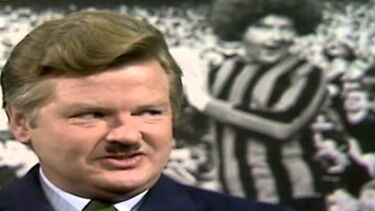 Production
Episode: 2
Date: December 25, 1969
Time: 50:58
Musical Director:
Vocals: The Ladybirds
Choreography:
Producer: John Robins
Director: John Robins

Episode
Highlights
Holiday Sports Spectacular
Peeping Ben
The Short Happy Life Of Maurice Dribble
Cast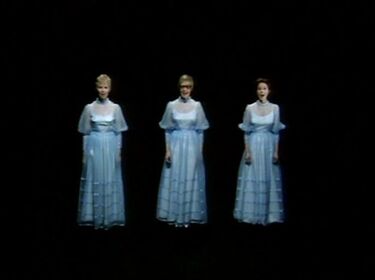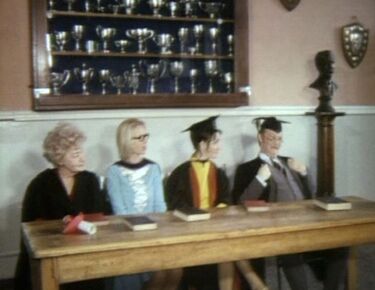 Quotes
---
Nicholas Parsons - "So, you are Stan Moore from Romford?"
Ron Moore - "No, I'm Ron Moore from Stamford. I am married, I have fifteen children, and my hobby is flying my kite."
---
Fred Scuttle - "It must be jelly because jam don't shake like that."
---
Announcer - "Yes, Mr. Stoney, you've won an eye-level electric grill - If you bend over it!"
---
---
---
Trivia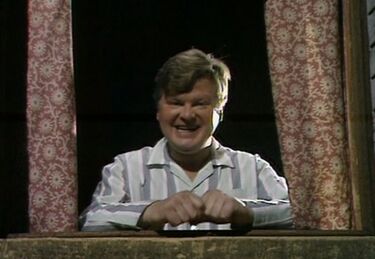 This is the first episode at Thames Television to feature Fred Scuttle.
TV personality David Hamilton covers the introduction and the inter-sketch announcements in the episode.
The opening quickie features a disgruntled fisherman (Benny Hill) throwing his hat down and catching several fish
The string of Quickies for this episode features:

A cat eating from the wrong can (Michael Sharvell-Martin is the voice of the off-screen director)
A string of on-screen blunders with a gun slinger named Cole
A telephone misdial on the set The Golden Shoot
A female Mexican singer (Benny Hill) with broken castanets
A man with a stutter (Michael Sharvell-Martin competes on the Golden Shoot (Nicholas Parsons is the voice of the sponsor)
Cole is accidentally hit by the real chair than the prop chair
The beer stein is stuck to the table in the Gay Hussar commercial
Cole gets his belt caught in a chair
Two contestants have the same name on the Golden Shoot and the lovely assistant (Valerie Stanton) gets shot by an arrow

The Gay Hussar commercial blooper is on the same set of the musical bloopers from the previous episode
Several clips from this episode made it into the The Best of Benny Hill.
Tommy Mann reportedly sprained his ankle from tripping over a camera cable during the "Two-Ton Grudge" sketch.
In the end quickie, Benny plays a man attracted to a woman (Eira Heath) in the park only to accidentally flirt with an old woman (Connie Georges). The police lady is played by Rita Webb. (Her first appearance on the show.)
Sequence
---
Community content is available under
CC-BY-SA
unless otherwise noted.