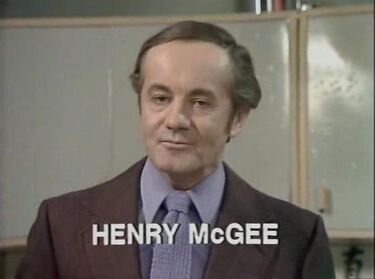 Henry McGee is an English comedy actor, best known as a straight man to Benny Hill and announcer on "The Benny Hill Show."
Born Henry James Marris-McGee on May 14, 1929 in South Kensington, England, he was a student at Stonyhurst College studying for his medical degree, but the sudden death of his father in 1946 put financial strains on the family and he started pursuing an acting career. Backed by his mother, who had been an actress, McGee started taking supporting roles in films and television series and dramas, including "The Italian Job" with Michael Caine and Benny Hill in 1969, "The Saint" and "The Avengers." McGee started intermittently on "The Benny Hill Show," sharing the role as straight-man to Hill with Nicolas Parsons through the 70s until he became a regular performer on the show in 1975, sometimes specializing in comedic roles as figures in authority, such as police officers and The Marriage Counselor, while also playing exaggerated buffoons, such as Murdock in Benny's A-Team spoof. Jon Jon Keefe remembered him for his infallible memory for remembering his lines. Later in his career, he also became famous as "The Mummy" of Honey Monster, a large, yellow, furry creature in advertisements for the breakfast cereal "Sugar Puffs."
During hiatus time, McGee also took comedy roles in feature films, such as "Holiday on the Buses," "Adventures of a Taxi Driver," "Revenge of the Pink Panther" and "Carry On Emmannuelle" as well as TV appearances on "The Worker," "Rising Damp" and "There Was An Englishman, An Irishman and a Scotsman."
After "The Benny Hill Show" was cancelled in 1989, McGee returned to work with Benny Hill in Benny Hill's World Tour: New York. He also attended Benny's funeral along with Louise English and Sue Upton. Semi-retired by now, he appeared in an episode of the series, "Last of the Summer Wine" and the A&E series "Biography" in a bio on Benny Hill's life.
After a long and successful theater career during which he tackled a wide range of roles, receiving plaudits for deadpan delivery in farces such as "Plunder," McGee sadly spent the last six months of his life in a nursing home, suffering from Alzheimer's disease. He passed away January 28, 2006 and was buried at Brompton Cemetery, London, survived by one daughter, Stephanie McGee.
Episode(s)
Gallery
---