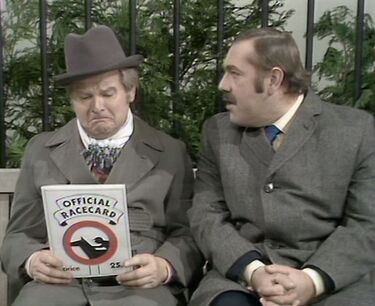 Production
Edit
Episode: 23
Date: March 12, 1975
Time: 51:20
Musical Director:
Vocals: The Ladybirds
Choreography:
Producer: Mark Stuart
Director: Mark Stuart
Writer: Benny Hill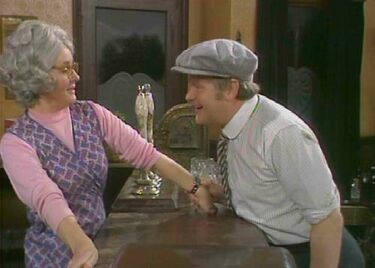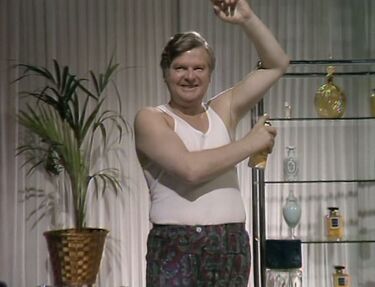 Quickie: Mighty Deodorant
All-Time Favorites

Milligan and Nesbitt
Monty and his Musical Saw
Lionel Blare
The Naval Duo
Chalfort St. Giles and Elsie
Pam's People

Song: The Rose of El Paso
Quickies

The New Father
Rolf Harris

Fred Scuttle: Thames Producer
Quickie: Off to the Races
Guest: Diana Darvey - It's So Nice To Be Traveling
Quickie: Remember Me
Midnight In Soho: Love For Sale
Highlights
Edit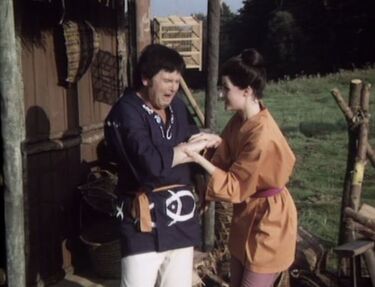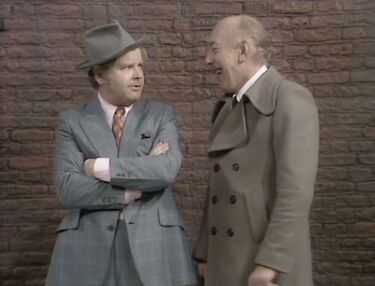 Great Mysteries With Orson Buggy
Dimpton Health And Sun Club
Beyond the Bamboo Curtain
Rolf Harris - "I'm sorry, but, Mark, that dart's poisonous!"
Lee Gibson - "Oh, Lord! Who's going to suck the poison out!"
Rolf Harris - "Me!" (sounds of people racing on stage)
---
---
---
Elsie - "I'm not staying in a room with you for only a quid. What do you think I am?"
Ernie Potts - "Love, we know what you are. We're haggling over the price now. Ain't we?"
---
---
Ernie Potts - "You can't come in. It's a bit awkward... I'm taking a bath."
Miss McTavish - "There isn't a bath in there!"
Ernie Potts - "I know... That's what's making it awkward!!"
---
Ernie Potts - "There are no bed bugs in there. The cockroaches ate them all."
---
Ernie Potts - "I lent him the money to bury his grandmother, and if I don't get it back by Friday, up she comes!"
First appearance of Anna Dawson in the series. She would end up returning as a series regular in the 1985 to 1989 episodes.
Pam's People is a spoof of Pan's People.
Orson Buggy is based on American actor and director Orson Welles.
Fred Scuttle's full name is Frederick Forsyte Scuttles.
Benny can't put his arm down in the Mighty Man deodorant commercial; he recreates this sketch in the Benny Hill's World Tour: New York special.
---
Community content is available under
CC-BY-SA
unless otherwise noted.